In and Around the U.S. - Portland, Maine: Avesta brings affordable housing to Portland's art community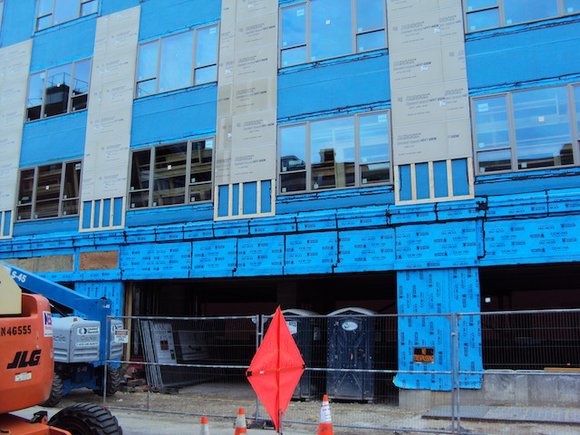 Pointing out another enhancing feature of the venture, Payne disclosed: "The arts district in Portland-and it's not specific to the visual arts...it is really about the arts in total: music, video-all that is part of the thriving arts community in Portland. It is something that the city really wants to grow, and is really excited about the creative economy that is building up because of this neighborhood. So I think when artists hear about this new residential project going up in the neighborhood where they work, I think the first logical instinct is let's have this place be a place we can actually afford to live in and continue to make our creative economy stronger."
Projected for completion at the end of December, Oak Street Lofts is open to anyone over the age of 18. "Again what we've tried to do is target the artist community, but we really are not requiring that people be artists, so what could happen is that out of the 37 efficiency apartments we could end up having 20 artists and 17 people who come through our general marketing,"
With rents ranging from $500 to about $775 a month-including heat, hot water, electricity, and shared WiFi-the affordable, artist friendly, Oak Street Lofts is a locked building with security camera system, and 24-hour on call maintenance. In addition, there is on-site laundry, an elevator and limited parking for cars with scooter spots and storage for bicycles.
The units are approximately 400 square feet, with high ceilings, and large windows with natural sunlight. There are also extra large kitchen sinks, and deep storage space for artwork and supplies.
On the street level of the building facing Oak Street there is a ground floor gallery space for use by tenants. This space includes gallery lighting, artwork hanging systems, sculpture pedestals, stage lounge seating and a coffee area. Additionally, on a day-to-day basis, residents have access to the community room, which provides WiFi access for laptops, or a place to grab a cup of coffee and socialize with fellow residents.
On the second floor, there is a shared common space with sink, tables and work walls. There is a hallway picture hanging system with gallery lights. Chairs and a TV are also provided.
The arts community is about to experience the magic of affordable housing in the Portland arts district. Oak Street Lofts is the place. And the New Year never looked brighter.
For more information, please contact Avesta Housing at (207) 553-7780 x253.