Farmers prepare "fight back" to foreign land grabbers
11/30/2011, 11:56 a.m.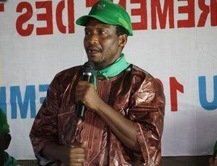 Nov. 29 (GIN) - An international farmers' conference in the West African nation of Mali this month drew over 250 participants from thirty different countries to oppose the practice of "land grabbing" by foreign investors.
Ibrahima Coulibaly of the national organization of Malian farmers said in the opening speech: "The land belongs to local communities and it has been like that for generations. Now, governments are pushing farmers off their lands. This is not acceptable. It is a denial of historic rights, rights that exist since hundreds of years, while many states exist only since the 1960s."
"Land grabbing is happening everywhere," said Renee Vellve of GRAIN, a farmers' support group. "The rights of family farmers, pastoralists, artisanal fishers and indigenous communities, are violated constantly and their territories are being increasingly militarized."
More then 60 countries have been targeted by hundreds of private corporations and dozens of governments. This international "land rush" affects as least 30 million acres in Africa alone, according to GRAIN.
Currently in Mali, some 800,000 acres of land have been leased by foreign developers or are under negotiation for lease. One farmer from Kolongo, in the Segou region, said: "We have been living in our villages for hundreds of years, yet nobody came and told us about these projects. Then one day, this machine came and started to dig. They gave us a paper which we could not read... The paper said that we had to leave our land and our farms...They dug up a cemetery, they robbed us of our harvest and ruined our land. We organised a forum in Kolongo one year ago and we are still struggling for our rights, but we are really suffering."
So-called land grabbing has been reported from Ghana to Kenya and was the subject of a study by Maurice N. Amutabi of the Catholic University of Eastern Africa and discussed at an international conference on land policies in East Africa earlier this month. w/pix of I. Coulibaly