Nestle company to investigate charges it uses child labor
11/30/2011, 11:58 a.m.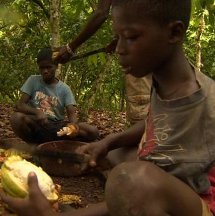 Nov. 29 (GIN) - Nestle, the world's largest food company, has announced it will investigate charges of using child labor on the farms that supply it with the cocoa that ends up in millions of chocolate bars.
Beginning in January, the Fair Labor Association, hired by Nestle, will send a team of assessors to Ivory Coast to map the cocoa supply chain. The group has conducted similar investigations in the textile, manufacturing and other industries around the world. But Nestle is the first food company to open up its supply chain to FLA's scrutiny.
It's the first major move to combat child labor since the Swiss company and other major chocolate makers signed a U.S.-brokered agreement in September 2001.
The results will be made public in spring 2012.
Ivory Coast produces 35 percent of the world's cocoa. The nation's cocoa production hit a record 1.48 million tons last year despite a political crisis that almost brought civil war.
A report produced by Tulane University said last year that 1.8 million children aged 5 to 17 years work on cocoa farms in Ivory Coast and Ghana.
It said 40 percent of 820,000 children working in cocoa in Ivory Coast are not enrolled in school, and only about 5 percent of Ivorian children are paid for their work.