'Seed' creative team talks opening night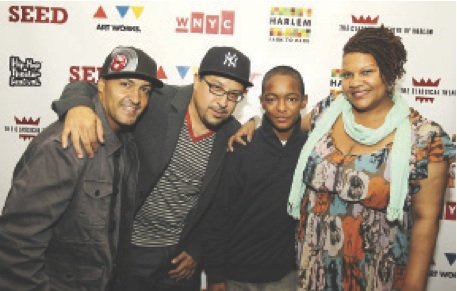 This weekend, "Seed" opened at the National Black Theatre on Fifth Avenue between 125th and 126th streets. This dramatic play by Radha Blank is not only staged in Harlem, it is set in Harlem and spotlights the historic significance and sense of community that exists in this amazing neighborhood.
After the opening night performance, I was able to speak to the playwright, the director and people from the two organizations that produced the show, the Classical Theatre of Harlem and the Hip-Hop Theater Festival.
It was an exciting performance, so I was looking forward to delving into how a piece like this came together. "Seed" tells the story of a social worker named Anne, a 12-year-old boy named Chee-Chee, his family and Rashawn, a young incarcerated Black woman.
Blank shared with me why she wrote this dramatic piece. "There were several reasons; I was a teacher for about 15 years in the New York City school system, and depending on what community you work in, sometimes you can feel like a social worker. Because I was a teacher or teaching artist, I didn't have the power to do much for the children I encountered."
She continued, "As a teacher, you are known as a mandated reporter, so you just pass the information on but you can't really do anything. There were so many children whose stories have stuck with me, so through Anne I vicariously get to do something.
"It was also inspired by my concern for the children of Harlem and what's going to happen with them, in terms of their education and all of the gentrification that's happening in the community now," Blank said.
When audiences experience this poignant, riveting piece of theater, Blank wants them to come away with something. "There's a question in the play: How far are we willing to go to keep a child safe or to keep a community's future safe? I want people to feel like we should all be invested in the children in this community. When we're all watching-there's the characters of Anne and Latonya who are having a tug-of-war over this boy, but I feel when the audience is watching, they feel invested too. I want people to walk out and look at kids differently," she said.
"I came up in a community in Williamsburg, before I moved to Harlem, where everybody had an eye on your back, and if you were cutting up, you'd better believe Ms. Rodriguez is going to tell your Mama and your Mama is going to tell your Papa. It may sound nostalgic or utopic, but I kind of wish we could go back to that, where everybody would stick out their necks to protect a child. Nowadays, we're less involved and we feel less connected, like it's not our problem. I think we should feel it is our problem," Blank shared.
The play combines dialogue and raps that each character gets to perform. It is an incredible piece of theater, both for the actors and for Niegel Smith, the director. Smith talked about the challenge of fusing together a piece like this. "The greatest challenge is how to create a sense of authenticity through every moment. Radha has given us a fiercely intelligent play that gets into each character's psyche delicately and then pushes them to extremes, to a place where they have to speak into rhyme, into hip-hop, into poetry."