'Seed' creative team talks opening night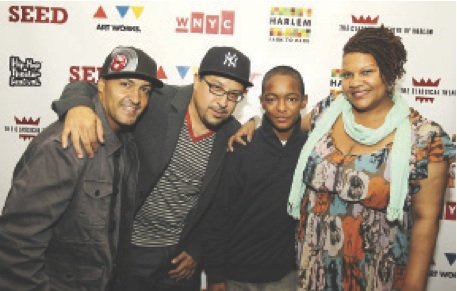 He explained, "What becomes difficult in the rehearsal process is creating a space for actors to take a risk and really live out those challenging moments-it's a lot of pushing or sitting back and waiting and letting them discover. The greatest challenge is allowing the play to explode in the way that it wants to explode."
Clyde Valentin, executive director of the Hip-Hop Theater Festival, and Ty Jones, the Classical Theatre of Harlem's producing director-the co-producers of "Seed"-were excited to share their thoughts on this project. "The collaboration came about around the play. Radha sent the script to us and we thought it was incredible. And she said that Classical Theatre of Harlem is interested in doing a reading and presenting it. So that was the beginning of the conversation," Valentin said.
"I want audiences to come away with a line in the play, 'Stick your neck out.' There's not enough of us willing to stick our necks out," he added. Valentin was joined at the opening by Kamilah Forbes, artistic director for the Hip-Hop Theater Festival.
Jones was excited as he remarked, "The Hip-Hop Theater Festival and Classical Theatre of Harlem-we have similar missions, we both want to provide opportunities for artists of color, women. And we want to do it in a comprehensive theatrical form-not just for actors on stage, but for designers, directors and playwrights.
"What the Hip-Hop Theater Festival does is speak to a generation that often is left out of the conversation of theater," Jones continued. "We love to be able to bring our brand of theater to that generation of folks. We believe that theater belongs to all people.
"It makes sense that the Hip-Hop Festival and us worked together on a play we both independently loved. We have a reading series called 'Future Classics' and we chose 'Seed.' The Hip-Hop Festival independently did a reading on their own and loved the play."
Jones feels the play will do well. "The success of a play is when it promotes dialogue and discussion, and I know this play does that. This play will move people in a profound and pleasurable ways.
"The end date is October 9, but we're hoping that things will be so damn successful that it will extend a couple of weeks and be at a venue where it can have an open run. There are talkbacks after some of the shows with social workers and with young people who are in the child care system."