Mid-Manhattan NAACP annual Luncheon Brings Together Civic Minded New Yorkers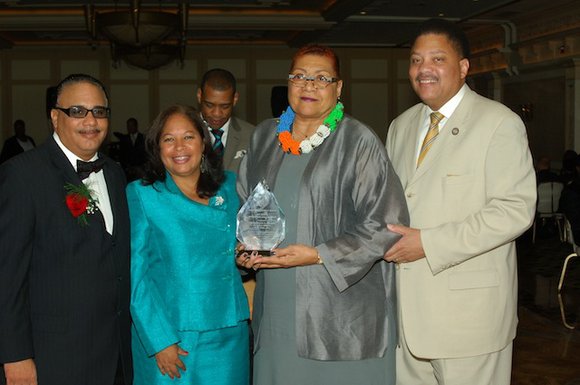 If you had been there, you would have seen Rep. Charles B. Rangel, Assemblyman Keith Wright and the Rev. Al Sharpton all in the same place at the same time. You would have also seen all of the ladies who lunch dressed to perfection, the men dashing and charming as ever-just everyone who is everyone and too civic-minded to mention.
Where is this, you chant? At the NAACP Mid-Manhattan Branch's annual luncheon, but of course. Don't say I didn't tell you about it-I gave plenty of heads-up notice. Needless to say, it was a smash, with an exceptional turnout. It was a perfect way to spend the afternoon.
Among all of the deserving honorees, Vy Higginson was especially noted for the work she is doing with underserved teenagers. Her Mama Foundation uses the gift of song to assist teenagers with their daily trials and tribulations by helping them find their singing voices, giving them a chance to express themselves by singing their blues away. And it works.
Not stopping there, the branch will host the New York State 75th annual Diamond Jubilee convention beginning Friday, Oct. 7 at 3 p.m. and running through Sunday. President Benjamin Todd Jealous will be the guest speaker at the Saturday luncheon, the cost of which is $50, and Chairwoman Roselyn Brock will be the guest speaker at the Saturday evening awards dinner, which is a little more costly at $65 but not that much. The Friday evening dinner, which is quite affordable at only $20, will kick off the weekend of celebration.
All events will be held at the Westin Times Square hotel and convention center. For more information, call (212) 749-2323.
But wait! Hold everything. They're not finished yet. The NAACP Mid-Manhattan Branch/Symphony Space street fair will also take place on Oct. 9, 11 a.m.-5 p.m., from 86th to 96th Street. I'm not sure if this will be held on Broadway or West End Avenue, as the notice didn't say. However, if you get anywhere near the vicinity, I'm sure you will find it, along with food, entertainment by Michael Gray, shopping and fun.
Condolences to the family of Johnny Jackson, whose wife, Sonia, passed away. To the family of Irene Johnson, whose husband and father of daughter Alfrey passed away. Happy birthday to Paul Silver (all that glitters isn't gold; sometimes it's Silver!); Michael Dutton, Carol Chaoui, Brad Johnson, Julia Mitchell, Elinor Johnson and Nina DeWees.
Yes, my little Julia has turned 6. Time flies. This year we decided to have her birthday party at her favorite venue: the playground. In attendance were Autumn Rattray, Jordan Bracey, Kendall Tillary, Alexander and Rowen Olatoye.
The children brought their scooters and skates, and we had games to play and balloons. Other children in the park joined in and, oh boy, what fun they had.
It was strictly a water party as Mommy got a big tub and filled it with ice, and nips of Poland Spring were plentiful and available for all. Our good friend Mark Feurgeson, who also does excellent landscaping and any other around-the-house things that need to be done, grilled the best franks and hamburgers.