An inventor for our generation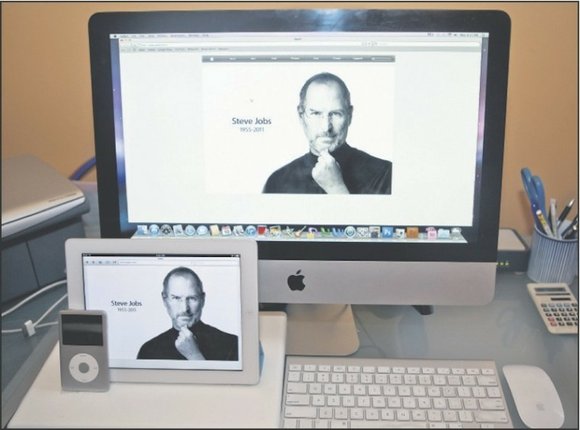 Chances are you use a Macintosh computer in your classroom and maybe even at home. You might have a MacBook. It's more than likely you have an iPod, iPhone or even an iPad or know someone who does. These nifty gadgets were invented by Steve Jobs.
Who doesn't love the classic movies "Toy Story," "Finding Nemo" and "The Incredibles"? These were created by Pixar, another project of his.
Last Wednesday, Oct. 5, Jobs died after a long battle with cancer. He was 56 years old.
Jobs was the co-founder of Apple Computers. He was a computer genius, a great inventor and a visionary. His philosophy was to know what we, the consumers, wanted even if we didn't know it ourselves. Boy, did he ever know what we wanted.
Jobs was born on Feb. 24, 1955. His parents were young graduate students attending the University of Wisconsin. His mother, Joanne Simpson, a speech therapist, and father, Abdulfattah "John" Jandali, a Syrian political science professor, gave their unnamed infant son up for adoption.
He was adopted by Clara and Paul Jobs and given the name Steven Paul Jobs. The family lived in Mountain View, Calif., in Silicon Valley, where Jobs would later make his mark on the world.
The boy was smart and creative but not the greatest student. His fourth grade teacher bribed him to study. While still in high school, he spent much of his time at the computer company Hewlett-Packard, where he met the guru of the computer club, Steve Wozniak. The two became friends.
Jobs went to Reed College in Portland, Ore., but dropped out after six months. He would spend the next year and a half taking a host of creative classes, including calligraphy. In 1974, Jobs got a job as a video game designer with Atari but left to travel to India. (Perhaps your parents remember the old Atari video games.)
At 21, he joined Wozniak and together they started Apple Computers out of the Jobs family garage. To get the startup money, Jobs sold his Volkswagen and Wozniak sold his scientific calculator.
At that point in time, not many people used computers except in offices. They were expensive and not practical for home use. These two young men changed all of that by designing a computer that was easy to use.
Their first computer, the Apple I, cost $666.66 and earned them $774,000 in sales. The Apple II earned $139 million, a 700 percent increase. By 1980, Apple Computers was worth $1.2 billion. Not bad for a company that started in a garage.
However, the next batch of products did not do well. There were problems, recalls and a loss of customers. This run of misfortune caused Apple to lose the top sales position to IBM, another computer company. Apple Computers began to compete with PCs, which most businesses were using.
In 1984, Apple released the Macintosh. It was sold as a computer for the young, hip and creative. The little computer with the smiling face was a hit, but still not comparable to IBM. That was a problem.