Must See Black Movies of All Time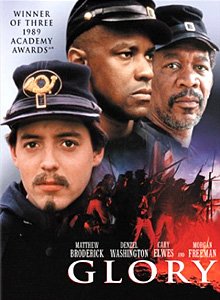 Here at AmNews offices we recently had a new intern start, Yacine Simpore. You may recognize her name from the many bylines she has had in the paper and online since she started with us one month ago. Yacine is joining us from France and we have taken it upon ourselves to help her learn everything there is to being black in America. One part of our culture that Yacine, and various others on our staff thought was important was pop-culture and movies.
This is the list we complied of the must see black movies. They represent some of the finest work of our film community and others are pure entertainment. But all give incited and perspective into our community. Do you think this covers it? What is missing and what should simply be left out?
AmNews Staff Top 10 (These are also repeated under their specific genre)
Glory
Boys in the Hood
Do the Right Thing
Coming to America
New Jack City
Malcolm X
The Wiz
The Color Purple
Purple Rain
Guess Whos Coming to Dinner
Historical
Good Hair
Great debaters
Malcolm X
Glory
Amistad
Harlem nights
The Color Purple
Get on the Bus
Devil in Blue Dress
Cry freedom
Montgomery
Life
Roots (*Reader contributed, this was originally left out because it is a series)
Keep the Faith, Baby (*Reader contributed)
Comedy
Coming to America
Friday, Friday After Next, Next Friday
Nutty Professor I and II
Hollywood Shuffle
Boomerang
House party I &II
Booty call
Uptown Saturday Night
Guess who's coming to dinner
Class Act
Vampire in Brooklyn
Mediaman
Blankman
Def James how to be a player
Ghostdad
Major Payne
Madea
B.AP.S
I'm through with White Girls
Trading Places
White Men Can't Jump
Drama
Stomp the Yard
For colored girls
Raisin in the Sun
Sounder
Mo'Betta Blues
Krush Groove
The pursuit of happiness
Do the right thing
Boyz'n the hood
Soul food
Waiting to exhale
Brothers
Eves Bayou
Best man
The wood
South central
Poetic justice
Menace to society
Set it off
Hustleflow
Blackman
Lean on me
Claudine
Drumline
Beloved
Higher learning
The mighty queen
The Jackson's
Crooklyn
Bird
What's love got to do with it?
Girl 6
For the love of Ivy
Precious
He's Got Game
Style Wars
Wild Style
Action
New Jack City
American Gangster
Training day
Ricochet
The Last Dragon
Beverly Hills Cops I, II, II
Shaft
Romeo must die
Hoodlum (*Reader contributed)
Romance
Jungle fever
Mississippi Masala
Love and basketball
A thin line between Love and Hate
How Stella got her groove
Love Jones
She hates me
Why did I get married I, II
Jumping the Broom
The Help
Brown Sugar (Reader contributed!)
Musical
Five Heartbreak
Idlewild
Purple rain
The wiz
Dream Girls
Lady sings the blues
Carmen Jones
Stormy weather
Uptown Records
Cab in the city
Sparkle
Porgy and Bess
Paris Blues
School Daze
Why do fools fall in love?
Lady sings the blues
Horror
Satire
Animation
Bebe's kids
Princess and the frog
Boon Docks, the movie