Steve Harvey says he's mentoring for manhood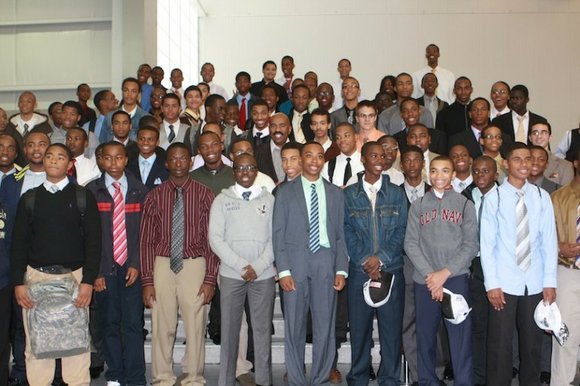 "Do what you say you're going to do!" The statement sounds pretty straightforward yet somehow, when implementing the seemingly simple declaration, things can get complex.
Perhaps that's why that edict is the first one cited in Steve Harvey's "Principles of Manhood 101." As a man of his word, Harvey, while promoting his second annual Steve Harvey Foundation Gala, revealed in late March that he would expand his Father's Day mentoring weekend from its base of Dallas, Texas, to select cities across the nation, including New York City.
Well, that weekend arrived last week, as 100 tristate young men converged at the Javits Center in hopes of seeing what lies ahead in life if structure is applied now.
Aligned with some esteemed celebrity guests and accomplished professionals (Geoffrey Canada, Stephen Hill, Stephen A. Smith, Dr. Steve Perry, Steve Stoute, Roland Martin, Bishop Donald Hilliard Jr. and D'Wayne Edwards, to name a few), the real stars of the weekend were the young men themselves.
In observing, and later speaking, to a few of the young brothers, the weekend was about trying to take control of their lives and realize that they are capable of giving and receiving support, discipline, respect and love from male counterparts, both those in their peer group and their elders.
Without having an alpha male support system around, these young men are extremely vulnerable-whether due to naivety, poor decisions or peer pressure-to societal ills that have for years feasted on males in our communities.
This fact can't be repeated enough. Lisa Ranson recognized this and took the necessary steps to involve her son in the program. "I'm a mom and I only want the best, but I can't coddle him. I can only nurture him to a certain point. These are the moments that are going to define him as he goes into adulthood, and I needed more and there wasn't a lot that was out there on the streets.
"There are certain things that I can't tell him. He needed a man to give that direction and to reinforce what I was telling him," she shared.
Ranson was given an extra boost of fortification as her son, Joseph Foster, was presented with the Future Leader Award. Tangibly, he took home a K&G Fashion Superstore $500 gift card, two roundtrip tickets from American Airlines and an Xbox 360 courtesy of Kmart, but, to be perfectly honest, at that moment those things didn't matter in the least to him.
Through tears of joy, Joseph said, "I'm so emotional. When I first started out on Friday, I didn't know what to expect. I was a little scared, I was a little skeptical, but I came with a great attitude and was ready to do some hard work, some things that might make me uncomfortable.
"This made me realize that nothing can stop me from achieving my dreams. At the end of the day, I'm all that I have and I'm going to stay by my word because that's all I have. I have so much that I want to do and so much that I want to accomplish, and Steve Harvey, the soldiers and the mentors have been such a big help."