Steve Harvey says he's mentoring for manhood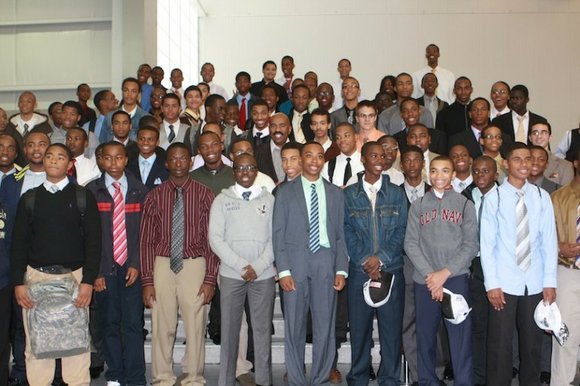 To help along in the process was the inspiration he had at home. "My mom worked so hard for me and this is as much hers as it is mine," said Joseph. "Nobody pats her on the back or gives her a check for being a mother. She does it the best way she can to raise a man, and she did that the best way she knew how.
She manned up when she needed to, and woman-ed up when she had to, and always showed me love.
"I don't feel like my time was wasted at all this weekend," he concluded. "Not just because I won this award, but because I got a chance to make some lifelong friends and meet some great people."
Some great people met you as well, little brother. To you and the others, the world is yours.
On deck for Monday, Oct. 17, Phonte and 9th Wonder of Little Brother-two-thirds of one of hip-hops best collectives-reconnect onstage at B.B. Kings (237 W. 42nd St. New York, N.Y.).
Both dropped highly anticipated albums recently, "Charity Starts at Home" for Phonte and "The Wonder Years" for 9th Wonder, and with the diverse artists they've worked with, anything can happen.
Doors open at 6 p.m. Ticket prices are $15 for tickets bought in advance and $20 on the day of show.
The STAT! For New York City's Public Hospitals! Gala Benefit will be held in the atrium of Bellevue Hospital on Tuesday, Oct. 18 from 6 to 8 p.m. Designed to raise awareness for New York Health and Hospital Corporation's (HHC) mission to promote the health and welfare of the people of New York City, the gala also celebrates HHC's 35,000 staff members and the many diverse communities served by HHC.
This year's honorees are the Big Apple Circus Clown Care Unit, a community outreach program that brings the joy of the circus to hospitalized children at pediatric facilities; famed music producer, visual artist and philanthropic activist Kasseem "Swizz Beatz" Dean; and Bruce Siegel, M.D, M.P.H., the chief executive officer of the National Association of Public Hospitals and Health Systems.
Tickets to the gala and a list of events are available at www.stathhc.org/gala.html or by calling (646) 458-2815.
Over and out. Holla next week. 'Til then, enjoy the nightlife.