United American Muslim Day Parade marches into its 26th year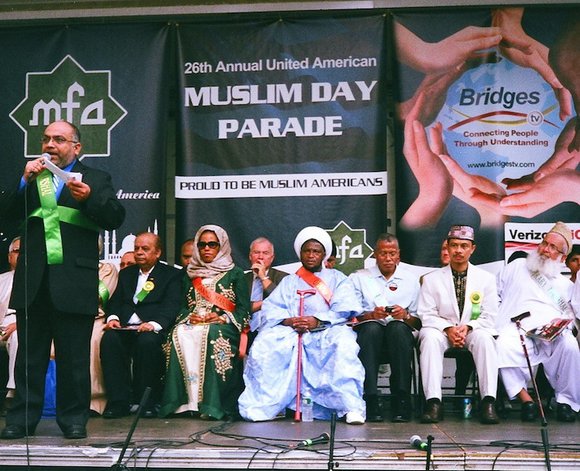 The 26th United American Muslim Day Parade, held on Sept. 25 on Madison Avenue between 23rd and 26th streets, displayed tradition, culture and a sense of sharing with New York. Muslims from all over the world came together with the intention of celebrating their faith while aiming for understanding and communication with all who attended.
Yusef, 50, from Long Island, who has been a Muslim for 30 years, welcomed the parade with open arms as he shared his feelings. "This parade unifies us and brings us around all the diversity."
XL, 36, a two-year Muslim from Brooklyn and a clothing designer who owns the T-shirt line "Inshallah," stated, "It gives us encouragement. A sense of community-there is hope that we can come together."
During the parade, XL walked around handing out stickers with his label's name on it, conversing with his fellow Muslims. When the topic of faith and fashion comes up, XL said he finds fashion to be a bridge for communication. "My shirts with 'Inshallah' on the front of them create unity through fashion. I have had people buy my shirts who were not Muslims-that alone shows communication and understanding."
The parade had a central stage, at which an emcee told historical stories about Muslims before introducing various guest speakers. One such speaker was City Council Member Robert Jackson, who spoke on his ambition of seeing more Muslims on the City Council aside from himself. "I would love to see in 2013 another Muslim or more than one in New York City's Council."
Parade attendee Abdul Haleem Shabazz from Brooklyn, who was at the very first United American Muslim Day Parade, shared some insight he has learned from over the years of the parade. "Originally, the African-American Muslims/Africans involvement was about 60 percent from year 1, but this year it is about 30 to 40 percent," he said. "The unity issue is very important this year and the nonparticipants show we should work more to get them here next year."
Shabazz was optimistic about the unity aspect from a personal standpoint, as he smiled and said, "That is why my family is out here."
Imam Aiyun al Baqi, another speaker, stood straight while looking out at the Muslims seated in front of him. He said, "The reason that African-Americans have been coming to Islam is that we find justice in Islam." He then indicated the international presence at the parade, and said, "Look around you, you will see Muslims are here from Africa, Asia and Europe."
Ilyasah Shabazz, the third daughter of Malcolm X and Betty Shabazz and a grand marshal at this year's parade, took the microphone to talk about her mother. "I would wonder how she cared for six kids [after her father's assassination]." She said the answer she found was, "She never gave into defeat, she never lived as a victim."