Bridges, sports legends and historic caves in 'The Middle of Everywhere'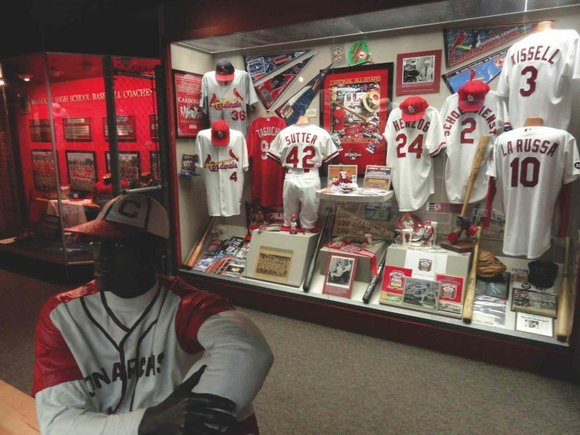 In this, our last adventure in Springfield, Mo., we are exploring more of the city's popular attractions.
HISTORIC C STREET
Extending about 12 blocks from Grant Avenue to Washington Avenue between Commercial and Pacific streets, the Historic C Street District (short for Commercial Street) was where the new Frisco rail line traversed through town, transforming the area into a hub of commerce, culture and other activities.
Today, the district offers an eclectic mix of artistic, entertainment and shopping entities and professional services, from vintage boutiques to coffee shops, flea markets, a gourmet chocolate factory, wine bars, pubs, stained glass studios and locally owned restaurants.
While in the area, be sure to explore the Jefferson Avenue Footbridge. Built in 1902 over the original 13 railroad tracks in an effort to connect residents to the business district, it extends 562 feet, making it the country's oldest and longest pedestrian footbridge.
LEGENDS OF THE SHOW ME STATE
Billed as a place that celebrates the past and inspires the future, the Missouri Sports Hall of Fame is dedicated to the celebration and preservation of Missouri's exceptional sports heritage.
Founded in 1994 and located on E. Stan Musial Drive-named in honor of the St. Louis Cardinals great (who played from 1941-1963) and baseball hall of famer-just a stone's throw from the intersection of Interstates 60 and 65, the Hall is a two-story, 32,000 -square-foot building with more than 4,000 sports archives.
Upon arrival, the first thing to grab your attention here are the life-size bronze busts and statues along the Legends Walkway, each honoring a legend of their own game. You'll find golfer Payne Stewart, WNBA great Jackie Marie Stiles, baseball manager Whitey Herzog, football legend and sportscaster Dan Dierdorf, baseball icon Ozzie Smith and scores of others waiting to usher you through the doors.
Inside, whether you are a casual fan or sports fanatic, there is something for everyone, from baseball to auto racing, golf, tennis, sports medicine, basketball, football, bowling, track and field and hockey at both the collegiate and professional levels.
In addition to archival displays chock full of photographs, trophies, medals, autographed sports gear, newspaper clippings, uniforms and more, the Hall has done a wonderful job of incorporating numerous interactive exhibits. Among them is a basketball shooting area, a mini putting green and a race car in which you can experience the thrill of the ride.
This awe-inspiring state treasure also encompasses the Legends Wall, honoring to date 22 legends "selected from the thousands of athletes, coaches and contributors who have contributed to Missouri sports over the past decades [and] who have...made an impact upon the face of Missouri sports in such a way that their names are viewed in iconic stature," according to the Hall.
Thus far, more than 300 individuals have been inducted into the Missouri Sports Hall of Fame. Among them are greats such as "Phog" Allen (basketball), Lamar Hunt (football), Opal Hill (golf), "Cotton" Fitzsimmons (basketball), Don Carter (bowling), Casey Stengel (baseball), Volney Ashford (football), Harriet Bland Green (track and field), Joe Garagiola and Mahlon Aldridge (sports media), "Yogi" Berra (baseball), Satchel Paige (baseball), Dr. E.A. Porter (sports medicine) and, of course, Stan Musial. This is just the beginning of some of the great personalities and legacies found here.