Bridges, sports legends and historic caves in 'The Middle of Everywhere'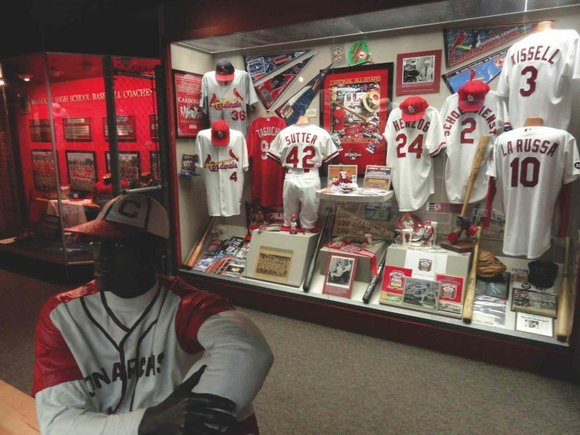 AN UNDERGROUND NATURAL WONDER
On our way out of town we stopped at one last attraction, Fantastic Caverns. Located approximately 15 minutes northwest of Springfield, Fantastic Caverns-one of the most popular tourist attractions in the state and one of more than 6,500 known caves that dot the Missouri landscape-is unique for many reasons.
It was discovered in 1862 by a farmer who was out walking his dog in the rolling hills of what was once a wide-open expanse. About five years later, a newspaper ad seeking explorers was answered by 12 brave women from Springfield who ventured into what turned out to be a massive cave formed by rivers that had carved their way into the surface of the Ozarks, ultimately forming valleys, canyons and caves.
The drive from the highway to Fantastic Caverns is breathtaking, offering picturesque views of the rolling hills and surrounding countryside along quiet two-lane country roads in what is really a residential neighborhood. If it weren't for the signs directing you to the caverns, you would never know you were on your way to a tourist attraction, much less one of this magnitude. Up until the last turn, you are literally surrounded by nothing but the beauty of the Ozarks. The grounds itself are scenic as well, with the main building set against a backdrop of soaring trees and open, green spaces.
Today, Fantastic Caverns is America's only ride-through cave, bringing visitors of all ages to its natural and well-preserved splendor via jeep-drawn trams. The one-hour tour-an all-weather attraction since the temperature hovers at a constant 60 degrees year-round-yields thousands of fascinating cave formations. These formations are still growing (albeit at such a slow rate that most people would not notice a change in their lifetime), so visitors are asked not to touch them, as the natural oils in our skin can actually retard thousands of years of growth. However, there is one spot at the beginning of the tour that you can touch to get a real feel of the cave.
What in my mind really sets Fantastic Caverns apart from other caves-aside from its historic significance-is that it is family-owned and part of a science research program that strongly supports conservation and educational programs.
Before or after the tour, be sure to roam the grounds, where you can picnic (in season) or take a short walk to the Canyon Trail brimming with wildlife, limestone bluffs and a hardwood forest. The half-mile trail winds through a portion of a primitive, collapsed cave along the Little Sac River and ends up at Indian Spring, a wet weather spring that flows only during the rainy months and drains the lower River Sanctuary passage of Fantastic Caverns.
TIME TO GO HOME
Well! I hope you enjoyed this adventure in Springfield. There is so much to see and do, and a feature series does not quite cover it all, but rest assured that the "Middle of Everywhere" is a worthy travel destination.
Lysa Allman-Baldwin writes for numerous online and print publications, including as the cultural travel writer for www.Examiner.com and as a senior travel writer for SoulOfAmerica.com, an Afrocentric travel website. Lysa can be reached at lallmanbaldwin@kc.rr.com.