Tribute to Rev. Shuttlesworth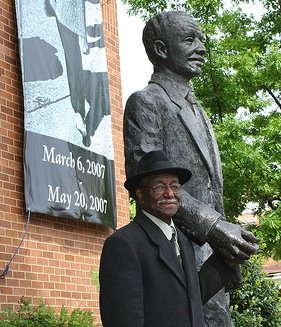 The Rev. Fred Lee Shuttlesworth, 89, died on Oct. 5. He was buried at Oak Hill Cemetery in Birmingham, Ala., after a six-hour funeral service on Monday, Oct. 24.
Without a doubt, Shuttlesworth was the most fearless person of the Civil Rights Movement that swept the southern part of the United States in the 20th century.
With little fanfare, he made segregation and injustice his mortal enemies. He founded the Alabama Christian Movement for Human Rights (ACMHR) soon after the NAACP was outlawed in the state of Alabama. He did so at the risk of his life in the Klan-ridden South. He survived the bombing of his church and home, which convinced him that his mission was God-ordained.
He was by nature an activist. He filed at least a dozen suits in the federal courts against segregation but also presented his body "as a living sacrifice" for the cause of righting the wrongs against African-Americans.
Before the ink was dry on the Brown vs. Board of Education decision, Shuttlesworth tried to enroll his children in a junior high school in Birmingham, where he was beaten with metal pipes and chains. Nothing deterred him. Some thought he was crazy. But the more resistance he met, the harder he fought! He was crazy to establish justice.
The Birmingham Campaign against segregation that desegregated the nation, North and South, could not have succeeded without Shuttlesworth and the ACMHR. It was the combination of the Southern Christian Leadership Conference's strongest affiliate and Martin Luther King Jr.'s Christian nonviolence that brought Alabama to its knees. Bull Connor was effectively castrated, symbolically.
The 1965 Public Accommodations Bill killed and buried segregation in America forever. It removed it from the body politic of the United States and influenced freedom movements around the world, thanks to Shuttlesworth.
Dr. Wyatt Tee Walker is a theologian and cultured historian and a former chief of staff to Martin Lurther King Jr.