Activists rally against gun violence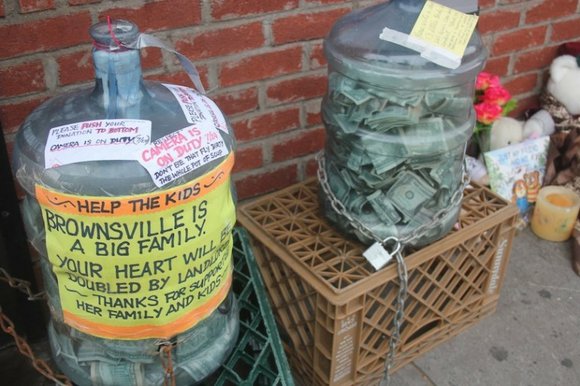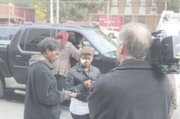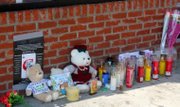 The three men involved in the shooting that killed Zurana Horton, a mother of 12, were coughed up by the community because they said that they could not stay in the community after what they did, said Andre Mitchell, head of Man Up Inc. and Ceasefire East New York.
The community activist said people in the neighborhood are tired of the incessant gunfire and bloodletting. "We are not having it. We went on the streets and we did our work. These three individuals understood that they had a choice to make and they decided to turn themselves in."
The sun was shining bright as school let out around 2:30 p.m. on Friday, Oct. 21.
Someone started firing from the roof of a Brownsville building. Her mother's instinct kicked in as Horton tried to shield one of her children and many others as the bullets started flying, an act of selfless bravery that cost her her life on Pitkin Avenue. Shoppers, passersby and schoolchildren ran for cover screaming.
When the pandemonium subsided, it was discovered that two other people had been hit. Recovering from gunshot wounds was a 31-year-old woman and 11-year-old Cheanne McKnight, a sixth grader at P.S. 298, who was treated at Brookdale for a graze to her cheek.
As arrangements are being made to lay Horton to rest, last Sunday, outraged activists held a community prayer vigil and prayer walk for peace at Pitkin Avenue and Watkins Street. They demanded the immediate apprehension of those involved in the shooting. It happened swiftly.
Police Commissioner Ray Kelly said Tuesday that Andrew Lopez, 18, "made a full confession" to shooting Horton. After a gang-related dispute on the street involving his brother that some witnesses said went on for some time, Lopez took to the roof and opened fire, spraying the area with bullets.
Kelly said, "He has made statements that he fired his weapon from the rooftop, which resulted in the death of the woman who was protecting those three young children in front of the supermarket."
Polce also arrested Lopez's brother, Kristian Lopez, 17, and their half-brother, Jonathan Carrasquillo, 22.
Carrasquillo was charged with murder, two counts of felony assault, criminal possession of a weapon and reckless endangerment. Kristian Lopez was charged with criminal possession of a weapon, according to police.
The fallout from the shooting has been tremendous in the Brownsville and East New York section of Brooklyn. Family and neighbors are confounded by the recklessness that is taking the lives of young and old alike. From babies to grandparents, stray bullets are ripping flesh and staining the sidewalks with blood.
State Sen. John Sampson is among those who has condemned the "senseless killing" of the pregnant 33-year-old mother of 12.
"My sympathy goes out to the family and friends of Zurana Horton and her 12 children. I also wish those injured in the gunfire a speedy recovery," Sampson said. "My prayers go out to all of the families impacted by this tragedy. This was a brutal, senseless murder orchestrated by reckless individuals.