Gaddafi's death stirs grassroots ire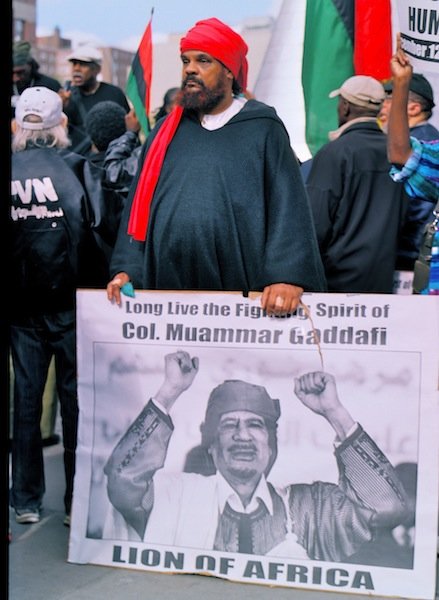 In September, Farrakhan and the December 12th Movement held a rally in Harlem demanding that the West remove itself from Libyan affairs, as land, oil and the ouster of Gaddafi was their real mission and they should not interfere in internal matters that posed no threat to a foreign nation.
Instead, Farrakhan said on Tuesday, they have awoke the ire of those will seek to avenge Gaddafi's "assassination," since these outside forces have "succeeded in being the authors of the successful assassination of a sitting president...No one can trust the United Nations because it is a pawn of the Western world. No nation will give up their weapons of mass destruction like Gaddafi did because it is the only protection they have against the wicked witches of the West."
"Gaddafi is an African hero," Councilman Charles Barron told the Amsterdam News. "What the Americans, NATO and Europe conducted was nothing but an assassination. Europe and NATO and America cannot solve Africa's problems. Only Africa can.
"Gaddafi was using the wealth of Libya's oil to set up a $70 billion bank account for African nations to borrow from without interest so that they did not have to deal with the International Monetary Fund with their agenda to recolonize Africa. Gaddafi was calling for the United States of Africa. He understood that he was Black and an African.
"He built a satellite so Africans can use that for their cell phones instead of Europe making $500 million a year," Barron continued. "Gaddafi was seen as the biggest threat because he was anti-capitalist, anti-imperialist and pro-Black."
He noted with disgust, "Anybody who can celebrate the inhumane and barbaric nature of his death-as he was captured alive and then murdered on YouTube- is sick. For Secretary of State Hilary Clinton to say, 'We came, we saw, he died'-she should be fired for those remarks and Obama should be ashamed for celebrating another African man's murder. It is unconscionable."
Barron predicted that America and the West will now control Libya's vast wealth through the "so-called rebels, who had enjoyed free health care, free education and no homelessness under Gaddafi."
He determined, however, "Libya will rise again. Gaddafi and Mugabe of Zimbabwe are friends of Africa."
Meanwhile, the December 12th Movement International Secretariat is organizing a "Tribute to Colonel Muammar al-Gaddafi" and a Pan-African Unity Forum. They will host the event on Thursday, Nov. 3 at 6 p.m. to "honor the legacy of Libyan leader Col. Muammar al-Gaddafi."
Attorney Roger Wareham said, "The tribute will trace the historic revolutionary struggle of the people of Libya against the feudal monarch King Idris and the creation of the Libyan Jamamariyah; Colonel Gaddafi's support of African liberation struggles against colonialism on the continent and throughout the Diaspora; and the building of the African Union."