Imhotep's Guide to Black Events 10/19-10/26/11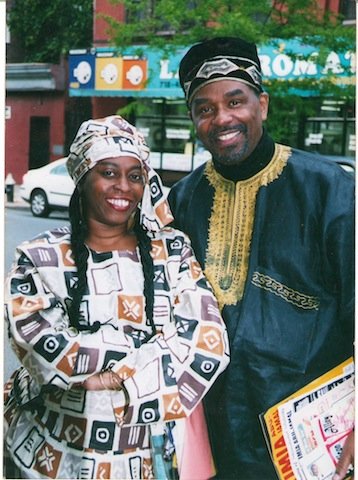 Greetings! In loving memory of a beautiful 10-year professional and life partnership, yours truly, IGB, the worldwide GBE family and the Amsterdam News mourn the loss of our own Vanessa E. Cooper-talented broadcaster, writer, executive assistant and GBEvents coordinator. On Oct. 12, Cooper made her transition after a heroic battle with pancreatic cancer.
"Sister Coop" will be forever remembered and loved by her friends, family and colleagues for her warmth, generosity and bountiful spirit. Her homecoming celebration will be held Friday, Oct. 21 from 6 to 9 p.m. in the second floor art gallery of the Adam Clayton Powell Jr. State Office Building, 163 W. 125th St. in Harlem. The closest trains are the 2 and 3 lines to 125th Street and Malcolm X Boulevard, but the A, B, C and D lines are only slightly farther away at 125th Street at St. Nicholas Avenue.
Theater
Academy Award nominee and Golden Globe winner Angela Bassett and Academy Award nominee Samuel L. Jackson star in the Broadway debut of "The Mountaintop," Katori Hall's Olivier Award-winning drama, directed by Tony Award nominee Kenny Leon ("Fences," "A Raisin in the Sun"). Featuring original music by Grammy Award-winning saxophonist and Tony Award nominee Branford Marsalis. At the Bernard B. Jacobs Theatre, 242 W. 45th St. For tickets, visit Telecharge.com.
The Coalition of Theatres of Color welcomes John Watusi Branch, executive director of Afrikan Poetry Theatre, with a tribute to the theater's upcoming 35th anniversary Grand African Ball to be held Sat., Nov. 5 at 259 Doughty Blvd. in Inwood. For more information, call Branch at (718) 523-3312 or (917) 868-7996, Fern Gillespie at (917) 334-9298 or email fernegillespie@aol.com.
Esther Armah's "Saviour?" A provocative, dramatic new love story about white privilege, Black women, sex and betrayal in a limited engagement through Sun., Oct. 30 at the Dwyer Cultural Center, 258 St. Nicholas Ave. at 123rd Street between St. Nicholas Avenue and Frederick Douglass Boulevard. For tickets, call (212) 352-3101 or visit www.takewingandsoar.org.
"Black Angels Over Tuskegee," the story of the pioneering first African-American fighter pilots, now playing at the Actors Temple Theatre, 339 W. 47th St. between Eighth and Ninth avenues. For tickets, call (212) 239-6200 or visit www.telecharge.com.
"Mama, I Want to Sing: The Next Generation," by Vy Higginsen, with original music by Wesley Naylor. Now playing at the Dempsey Theater, 127 W. 127th St. between Adam Clayton Powell Jr. and Malcolm X boulevards. For more information and tickets, call (212) 868-4444 or visit www.smarttix.com or mamafoundation.org.
"Baby It's You" follows the creation and rise of the independent record company that gave us the popular girl group the Shirelles, the Isley Brothers, Dionne Warwick, Chuck Jackson and more. At the Broadhurst Theatre, 235 W. 44th St. For more information, visit www.babyitsyouonbroadway.com.
Music
Mary Flowers Entertainment presents Ledisi's "Pieces of Me" tour Sun., Oct. 23 at 7 p.m. at the world famous Apollo Theater, 253 W. 125th St. The four-time Grammy-nominated artist will be performing music from her smash hit CD with special guest Timothy Bloom. For tickets, call the Apollo box office, (212) 531-5305.
"Absolute Funk: An Interstellar Trip to Honor George Clinton," under the musical direction of Ray Chew Live, hosted by Dr. Bob Lee of WBLS. Tues., Oct. 25 at 7:30 p.m. at the world famous Apollo Theater, 253 W. 125th St. For tickets, visit www.ticketmaster.com.
Tony and Emmy award-winning leading lady Leslie Uggams makes her NJPAC cabaret debut with "Uptown Downtown," Sat., Oct. 22 at 7 and 9:30 p.m. "Uptown Downtown" is an autobiographical performance in which she interlaces stories from her life with her unique jazz-tinged take on American standards ranging from Rodgers & Hammerstein, Harold Arlen and the Gershwins to tunes by the Drifters and Carole King. Please note that purchase of a 9:30 ticket includes a complimentary drink. For more information, call (973) 642-8989 or 888-GONJPAC or visit njpac.org.