CUNY CHAOS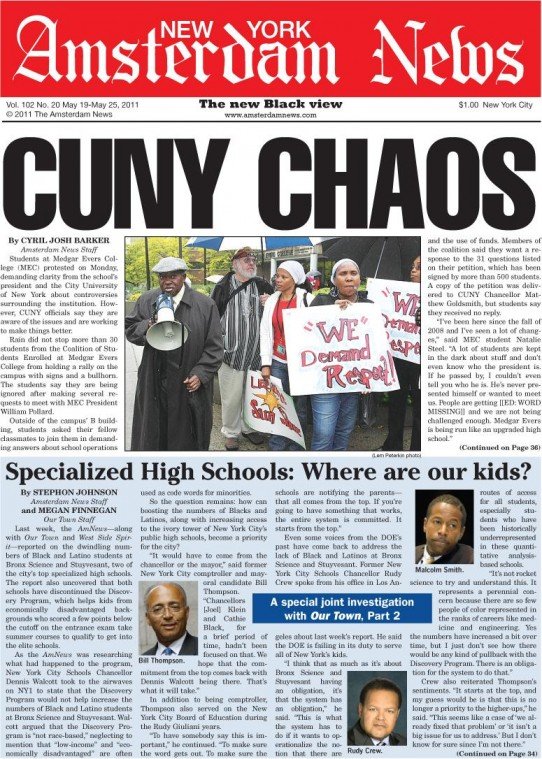 While no sitting elected officials came to the rally, former Brooklyn Congressman Major Owens came out to protest in support of the students and urged them to use their right to protest peacefully to get answers about the education they are paying for.
"I feel the set of questions the students have are legitimate, and the president should answer them," Owens said. "Going back to the non-violent days of the Civil Rights Movement, that's the way students ought to begin. Lay out your demands and ask for negotiations, which is all they've done. The questions are hard questions, but they are legitimate questions."
After students protested outside, they stormed into a faculty meeting Pollard was leading in the auditorium. Two students were permitted to explain to the faculty their issues with Pollard and asked Pollard himself to meet with them. Without responding, Pollard adjourned the meeting and left the auditorium surrounded by campus security.
In a statement, CUNY said that Pollard has done everything to engage students and has reached out to them to set a date for a meeting. In reference to the questions, CUNY said Pollard has held several town hall meetings that students were free to attend. The last meeting was held on May 9 and students were informed well in advance.
Pollard also has walk-in hours for students on Thursdays from 4-7 p.m., and feedback from previous meetings are already being implemented, according to the administration. Projects are currently underway to improve the library and to build a "greenspace" and swimming pool. Any cuts to MEC are due to the recent budgets of city and state government.
"From previous town hall meetings we received crucial information on student concerns and have moved to address several issues," CUNY said. "The college's senior administration has begun the master planning process to guide the future of our institution as part of the university's master plan due in June 2012. President Pollard remains unwavering in his efforts to make Medgar Evers College the most student-centered institution in CUNY and beyond. There is much to be done, and through student outreach, planning and focused implementation, we shall reach this goal."