Unions support Flatbush Gardens workers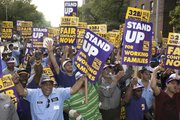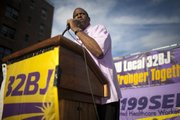 More than 1,000 working men and women representing unions from around the city and state gathered last week in support of the locked-out Flatbush Gardens workers. Tenants, elected representatives, union officials and community supporters participated at the rally in East Flatbush. Service Employees International Union (SEIU) 32BJ and the new president of the New York City Central Labor Council (CLC), Vincent Alvarez, organized the rally.
"It was really inspiring to see these workers stand united," said Kwame Patterson of SEIU 32BJ. "Not just for Flatbush Gardens workers, but for all workers."
The workers have been locked out for nine months after protesting a plan by Flatbush landlord Renaissance Equity Holdings that would have led to a 30 percent pay cut.
"We will continue our fight until victory and fairness is achieved," said Alvarez. "Their fight is our fight. Their lockout is our lockout. Their best interests are our only interests."
Renaissance Equity Holdings could be liable for millions of dollars in lost wages and benefits to the workers if the government prevails before a National Labor Relations Board judge.
"We need to get back to work. These 72 workers are suffering out here," Flatbush Gardens porter Joseph Mitchell emphasized. "This means that there are 72 families out there who are suffering as well."