Williams and Foy want public apology for unjust arrest
9/10/2011, 5:56 p.m.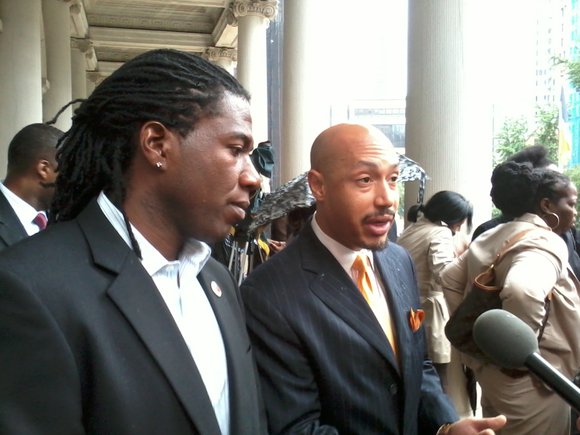 Speaking at the Rev. Al Sharpton's National Action Network weekly rally in Harlem on Saturday, Black City Council member Jumaane Williams and Public Advocate aide Kirsten J. Foy said that want a public apology and major policy changes when it comes to stop-and-frisk by the NYPD.
Days after holding a press conference outside city hall this week, the two said that they not only deserve respect for the positions they hold but that the NYPD and Mayor Michael Bloomberg should address issues of racial profiling.
"Kisten and I aren't different than anybody else," Williams said. "Had I not been a councilman I would be in jail right now. I deserve respect."
On Monday Foy and Williams were arrested at the West Indian Day Parade in Brooklyn after they allegedly asked to enter a restricted area on the parade route. A police official permitted them to go into the area but when officers stopped them at a checkpoint they were unable to pass even after showing government identification.
A YouTube video shows one officer kicking Foy and pushing him to the ground. The two were detained for a half-hour and released when they were identified. Both say that their race was an issue for their arrest.
Earlier this week Bloomberg said during a press conference that Williams, Foy and the arresting officer should have a beer to work out the issue. The mayor called the incident a "misunderstanding," however, Foy and Williams believe that the incident that happened to them is an all too familiar situation for all Black and Latino men in the city.
"Contrary to popular belief, Mr. Mayor, all Black men don't drink beer," said Foy. "My dignity was not left on that ground."
Alongside Foy and Williams were Public Advocate Bill de Blasio and Manhattan Borough President Scott Stringer. De Blasio, who is white, said that he did not have any problems going through any checkpoints at the West Indian Parade and wants to see the problem of stop-and-frisk solved.
Sharpton, who has always spoken out against stop-and-frisk, said on Saturday that Foy and Williams deserved justice.
"This has got to stop," Sharpton said. "There is no justification for what we saw happen. If they can do that to Jumaane and Kirsten imagine what they are doing to young Black and Latino men. Being better is not enough. Equal treatment is what we want."