One man stands up against the national bullying crisis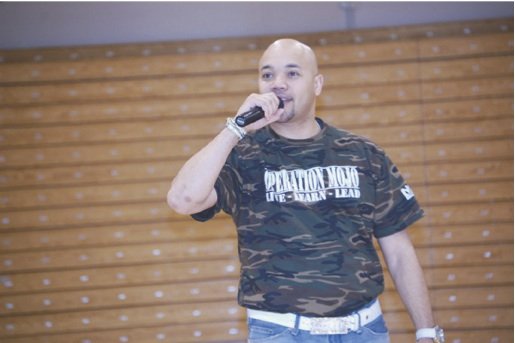 While many children are preparing for the upcoming school year by buying books and supplies, thousands more look to the new school season with fear and trepidation due to the torment and humiliation caused by school bullying. Whether victimized because of skin color, inherent differences or their sexual orientation, many cases of bullying lead to violence and suicide. Bullying has surfaced as a national crisis.
However, Travis Brown, a nationally recognized bully expert, believes students can counteract bullying through positive influences. Self-proclaimed as "America's Anti-Bullying Coach," Brown is currently hosting 200 anti-bullying conventions in schools across the country over a 70-day time period.
Nicknamed "Mr. Mojo" for his high energy and captivating speeches, Brown's No Bullying Tour examines the fundamentals of bullying and equips students, parents and teachers with the skills to fight against it. The tour kicked off Aug. 2 and will continue until Nov. 21 in elementary and high schools.
"160,000 students a day skip school because of bullying," says Brown, a native of Indiana. "All schools deal with bullying in one form or another."
According to the national anti-bullying program STOMP Out Bullying, one out of every four children is bullied. In addition, the Journal of the American Medical Association states that a student commits suicide because of bullying every half hour.
"All kids at some level are dealing with either physical, verbal or cyber [bullying]," he says. "Either they are bullies, they've been bullied, they're the promoters encouraging all the stuff to happen or, in some cases, they are the bystanders-they stand by and watch it happen."
"Leaders have to take a stand and [do] what I call 'mojo up,'" he says, referring to his signature phrase that he defines as the highest level of positive attitude, positive energy and positive results.
"The challenge for many kids is, once somebody identifies and tags them as not normal or different, that's when a lot of teasing [begins]," says the expert. He believes the antithesis of bullying is "educating administrators, educating our parents and educating our kids that different doesn't mean weird, different isn't wrong. Different simply means different."
Brown challenges children and adults to not only tolerate people who appear different, but to also practice acceptance. He says this doesn't mean you agree with their individual choices or practices, it just means that you accept them just the way they are.