Soul in a Jar: Home-canned fruits and vegetables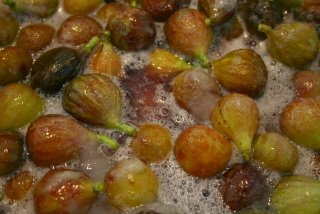 During the dreary winter, sparkling jars of home-canned fruits and vegetables bring a shimmer of light to the dinner table-a seasonal reward. Now is the time to fill canning jars with fresh peaches, berries, tomatoes, okra, bell peppers and corn, all of which are in peak season, flushed with nutrients and delectable, too.
Over the next few weeks, I will also can late summer plums, apples and pears. Then my winter-in-waiting offering will stand on a couple of shelves in my kitchen, away from traffic and heat, gleaming like jewels, reminding me of an endeavor that the women in my family enjoyed with gusto years ago.
Their just reward was sparkling preserves and jellies that on cold winter days can be spooned over ice cream or spread on a wedge of plain or pound cake for an instant classy dessert.
You can also add a little rum, bourbon or liqueur to the canning juice in the jar and brush on grilled fruits such as pineapple or bananas, on baked pears and apples or, for a burnished sweet edge, to roast ham or pork or turkey.
Canned pickled okra is a favorite in this kitchen, especially when nestled on a plate of sauteed or steamed greens. The verdant pods are also fine with roast chicken or turkey or as a topping for a bowl of beans or black-eyed peas.
I often add a cup or two of pickled okra to a big, hearty salad redolent with fresh tomatoes-a favored combo in this kitchen. The ancient pods are full of nutrients, native to Africa, where they are known as gumbo, the same name as that famous New Orleans soup that our ancestors brought to this land.
But what I remember most about my family's canning days years ago is that the canning was work, but fun, too. I can still see the women in my family teasing and faux-bickering over techniques and know-how. So don't forget to invite over a friend or two to help out and to share a few laughs.
Several canning recipes are featured in my cookbook, "Brown Sugar: Soul Food Desserts from Family and Friends," published by HarperCollins.
Happy fall!
Pickled Okra
Makes two to three pints
3 pounds fresh okra, small tender pods
1 cup water
4 cloves garlic, crushed
2 large yellow or red onions, peeled and thinly sliced
1 generous tablespoon chopped fresh dill or
1 teaspoon dried dill
2 to 3 tablespoons coriander seeds, crushed
1 to 2 teaspoons salt
1/2 to 1 teaspoon lightly crushed black peppercorns or coarse black pepper
1 teaspoon hot pepper flakes, or more if desired
4 to 4 1/2 cups cider vinegar
Have available three pint jars. Sterilized the jars and leave in the hot water, off the fire, while preparing the okra. (See Hot Canning Tips.)
Rinse the okra and cut off the woody tips just above the ridge of the pods. Trim away any small leaves from the sides of the pods, leaving the pods whole. Set aside.
Pour the water into a large stainless steel pot that holds at least two quarts. (If you don't have a large pot, do this in two batches.)