Usher, others, celebrate Clinton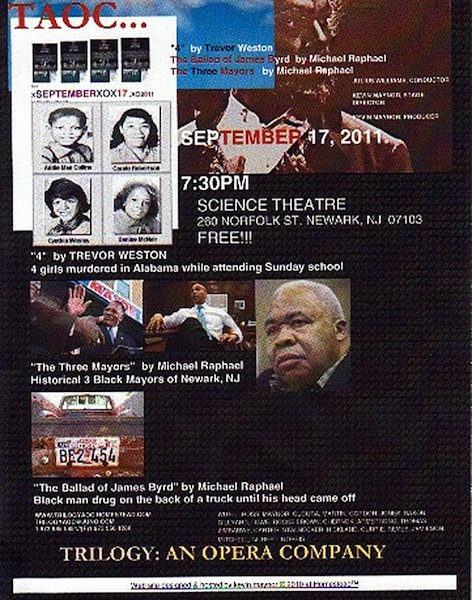 Trilogy: An Opera Company to Present Three Great One-Act Operas in Newark, NJ: On Saturday, Sept. 17, Trilogy: An Opera Company (TAOC) will present three newly composed one-act operas at the Science Theatre, 260 Norfolk St., Newark, N.J. Admission to all performances is free and open to the public.
The first performance to be presented will be "4," by Trevor Weston with contributions from Amiri Baraka. "4" tells the story of one of the most abhorrent crimes of the Civil Rights Movement, the bombing at the 16th Street Baptist Church in Birmingham, Ala., which resulted in the deaths of four young girls attending Sunday school. Twenty others were injured.
The second performance, "The Ballad of James Byrd," by Michael Raphael, tells the story of James Byrd, a 49-year-old African-American man who was murdered in Jasper, Texas, on June 7, 1998. His murderers were Shawn Allen Berry, Lawrence Russell Brewer and John William King.
Trilogy's excellent one-act "ring cycle" will conclude with the much-anticipated performance of "The Three Mayors," by Michael Raphael, libretto by Gus Heningburg. Newark is the only major metropolitan city to boast the achievement of electing three consecutive Black mayors. The opera examines the effect of the elections of Kenneth Gibson, elected in 1970 as Newark's first African-American mayor; Sharpe James, elected in 1986 and the longest-serving mayor of Newark; and the current leader of the city, Mayor Cory Booker, elected in 2006.
Artists involved in the productions include Robert Stephens, Pam Jones, Marvin Lowe, Julius Williams, Taiwan Norris, Lady Whitker, Mark Wilson and Kevin Maynor, artistic director of TAOC.
TAOC provides opera and art related to this genre that is reflective of the world in which we live. They focus on the works of Black composers who have written on subject matter relevant to the Black community. Past TAOC productions include "Nat Turner," "Frederick Douglass," "Harriet: A Woman Called Moses," "Call, Shout and Holler," "Emmett Till: The Oratorio," "Emmett Till: The Opera," "Darfur, Darfur" and "Treemonisha."
Their 2011 season will feature the TAOC Summer Festival, including dramatic presentations of the entire 14-piece repertoire. Make sure to make plans with friends and family to see and totally enjoy this mind-expanding operatic experience.
Usher to Perfomr in Concert Event Celebrating Bill Clinton: I was recently informed that singing stars Usher, Lady Gaga and U2 have been booked to perform at a forthcoming event for President Bill Clinton that Yahoo.com will stream live over the Internet. The concert, scheduled for Oct. 15 at the Hollywood Bowl, is billed as a celebration of the 10-year anniversary of the William J. Clinton Foundation, which has raised some $10 billion for the former president's favorite causes, such as HIV/AIDS treatment and reducing hunger.
And get this: It's also a late birthday party for Clinton, who turned 65 on Aug. 19. Details of the concert were still being configured on Tuesday, but a long list of movie and TV personalities are likely to appear, according to the Hollywood Reporter. A spokeswoman said tickets would be available to the public, unlike an invitation-only Rolling Stones concert that was organized to celebrate Clinton's 60th birthday.