"Durban 400 Documentary" celebrates the bitter anniversary of the Durban Conference.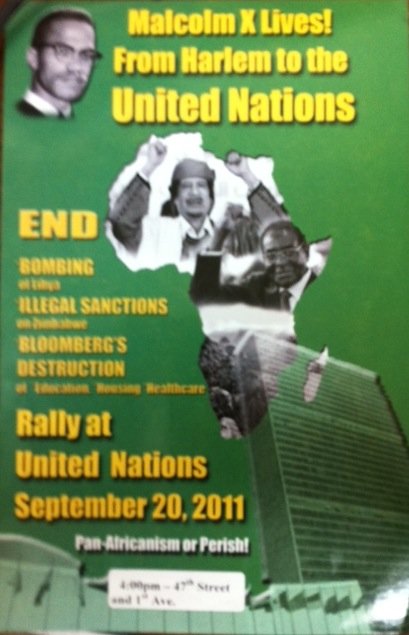 Ten years ago, on September 2001, the 12th December Movement International Secretariat and the National Black United Front, lead a conference in South Africa to declare Trans Atlantic Slave Trade and Slavery as a crime against Humanity and to ask Reparation for all the African People in Diaspora and on the continent of Africa.
"We are here to put the issue on table for the world to see." declared Omowale Clay, one of the December 12th Movement members. " Racism is based on the most crime of humanity...we are the President of this issue and are not going to back down. They are going to pay for their crime."
After a week of discussions, the conference lead to the Durban Declaration against Racism, Racial Discrimination Xenophobia and all related Intolerance.
This official Text acknowledges that" Slavery and Slave trade are a crime against humanity and should always have been so". It also condemned "Racism, racial discrimination, xenophobia and related intolerance", and finally recognized "Africans and people of African descent, Asians and people of Asian descent and indigenous peoples were victims of these acts and continue to be victims of their consequences."
Yet, this victory is not taken for granted by the 12th December Movement and according to Viola Plummer the chairperson of the movement: " The fight continues,"
So on Tuesday September 13th of this year the "Durban 400 Documentary" was screened in Adam Clayton Powell State Office Building in Harlem to recount "one of the greatest victories achieved by black people internationally," according to the film presenters. As in Harlem, people around the world were also discussing this 10 year anniversary.
The Durban Declaration, which seems to be a symbol of recognition and reconciliation, is less consensual as it seems. It had been considered as racist and anti-Semitic by some states such as Canada, Israel and the U.S, which triggered a call to boycott the commemoration of this 10th anniversary.
In a letter to Senator Kristin Gilibrand, the U.S State Department declared:
"The United States is fully committed to upholding the human rights of all people and to combating racial discrimination, xenophobia, intolerance, and bigotry. In 2009, after working to try to achieve a positive, constructive outcome in the Durban Review Conference, we withdrew from participating because the conference reaffirmed the original 2001 Durban Declaration, which unfairly singled out Israel and included language inconsistent with U.S traditions of robust free speech."
As a result, the U.N decided to discuss and modify the Declaration text on September 20th for its tenth anniversary. In a press conference, a U.N negotiator declared:
"We, heads of State and Government...reaffirm that the aim of this commemoration is to mobilize political will...for the full and effective implementation of the Durban Declaration."
Considering this U.N initiative as a real step-back and an offense to their fight, the 12th December Movement has called for a rally at the U.N on the same day in order "to uphold the Durban Declaration and to stop war against black people."
"We wanted to show you our struggle, our victories but above all to call for your commitment," said Plummer. "We have to keep this text, we wont step back now, and for this reason we need all black people commitment. We have to believe that it is doable."