Female playwrights of color shine at River Crosses Rivers II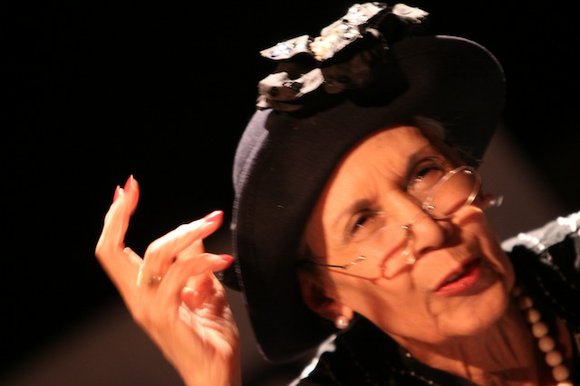 On Friday evening, I went to the opening night of "Seed" by Radha Blank, which is playing at the National Black Theatre, and I experienced a dramatic play that had funny moments, but was mainly raw and moving. I then attended the opening weekend of "River Crosses Rivers II: A Festival of Short Plays by Women of Color," and that was outstanding. The Ensemble Studio Theatre presents this festival at its location on West 52nd Street, between 10th and 11th avenues, continuing its mission of discovering new voices.
When I attended the short play festival, I got to see nine 10-minute plays by women of color. These plays feature accomplished actors and seasoned directors.
The festival starts off with "One for the Brothers, A Love Story," by Pearl Cleage, with direction by Woodie King Jr. Now, don't let the title fool you. This play is not about brothers who all love each other-it shares the story of four brothers and we see how, when one of the brothers goes in a different, negative direction, his other brothers turn their backs on him. The talented cast included Morocco Omari, Denise Burse and Reggie Burch, who actually portrays three of the four brothers.
The second play, "Skin" by Naveen Bahar Choudhury, with direction by Jamie Richards, demonstrates how important it is that we don't judge people solely by what we see on the outside, whether that be their appearance or a negative attitude. The two actors involved in this piece, Vandit Bhat and Nitya Vidyasagar, gave captivating performances.
The third play, "Modern Romance" by Bridgete Wimberly, with direction by Chuck Patterson, is absolutely delightful and takes a twist you simply won't expect. With that I will say no more about it, except that Trish McCall is hilarious, Harvey Gardner Moore is amusing and Chike Johnson is entertaining. This story is a romantic comedy that you will quickly fall in love with, demonstrating the imagination of Wimberly.
The fourth play, "One Quarter" by Christine Jean Chambers, is anything but a laughing matter. It is a deep, touching story that looks at the issue of how far a Black woman will go to be accepted by white people. It also shows how giving and caring a Black man can be for a Black woman. Sound a little confusing? Go and experience it for yourself. At the end of the 10 minutes, you will take a deep breath and find yourself just saying, "Wow, that was something else." Amelia Workman and William Jackson Harper give very focused and impressive performances in this thought-provoking play.
The fifth play, "Post Black," is written by actress and playwright Regina Taylor. It stars the phenomenal talent of Carmen De Lavallade as she plays Pearl, a Black woman with a radio program. Pearl is 110 years old and has seen it all in terms of the changes that Blacks have gone through in this society. She is a woman with a fighting spirit, and that spirit is tested when she is confronted by a group of youths at the airport. The group consists of white and Black youth and the white youth are disrespecting the Black youth. In reaction, the Black youth are laughing with them.