Female playwrights of color shine at River Crosses Rivers II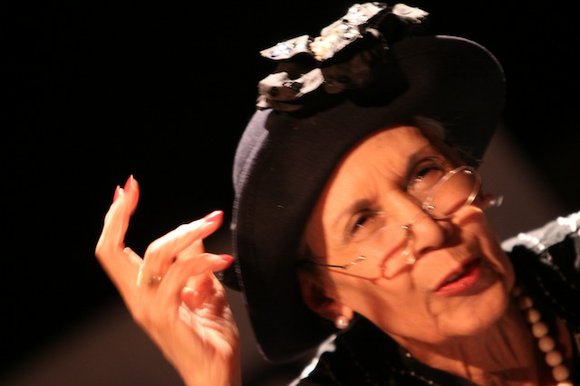 Before Pearl knows it, she is confronting the entire group-and the results of that confrontation are disturbing, demonstrating how times have changed for Black people, especially when it comes to the behavior of our youth. They don't understand the sacrifices that were made for them in order to be treated with respect.
The sixth play, "The Settlement" by Philana Omorotionmwan, with direction by A. Dean Irby, is one of the most amusing and modern day takes on the reparations debate. It is definitely written with a lot of humor, determination and passion. The cast of Marie Thomas, Teresa Stephenson and Denny Dale Bess is fantastic.
The seventh play, "Learning to Swim" by France-Luce Benson, is directed by Elizabeth Van Dyke and is very touching as it looks at a family in crisis. A dad with cancer, who decides to stop his treatment; a wife who is dealing with her dying husband; and a daughter who holds in her emotions like her father and her husband who seems supportive but has his own issues. This play makes one realize the complexity that can be involved in human relationships, whether they are between a husband and wife or a parent and child. The cast was magnificent and consisted of Ashley Bryant, Lincoln Brown, Stephanie Berry and Paulo Quiros.
The eighth play, "Comida De Puta..." by Desi Moreno-Penson, with direction by Jose Zayas and Erin Adams, is a disturbing story about how far a young girl will go to marry for financial security and how that plan can easily backfire. The storyline has twists that will have you reeling. It is performed by a wonderful cast that includes Maggie Bofill, Susanna Guzman, Gilbert Cruz and Ismael Cruz Cordova.
The ninth play, "Waking Up" by Cori Thomas, with direction by Tea Alagic, is a heart-wrenching story that juxtapose the lives of two women-white and Black-who see and feel a lump in their breasts. The white woman is rich and successful; the Black woman is from a poor African village, married and the mother of three. Each woman describes what happens to them, and though their experiences are completely different in the end, they have the commonality of their terrible tragedy and what it brings. The actresses who will captivate your attention are Lynnette Freeman and Amy Staats.
River Crosses Rivers II will only play through Oct. 2, so make plans to see it very soon. For more information, go to ensemblestudiotheatre.org. The festival is the creation of its co-artistic directors, Van Dyke and Richards.