Red Hook's historical double life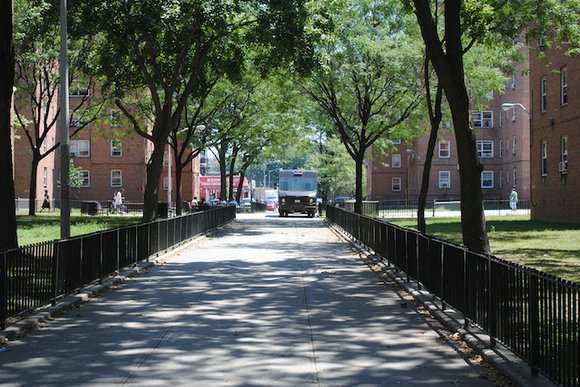 More of the neighborhood's residents found themselves unemployed, and a stream of people began leaving the neighborhood, the community becoming a shell of its former self.
By the early 1970s and into the 1980s, crime was rampant in the streets, and by the 1990s, the Red Hook Houses, which once housed dockworkers, became home to a dangerous, yet profitable drug ring. Drugs took over the public housing and much of the neighborhood.
It wasn't until 2006, when the drug bubble burst and more than 150 law enforcement officers came through Red Hook to arrest dealers, that the neighborhood really started to change. But change came at an enormous cost: Grandmothers, sisters, brothers, sons and daughters were brought into custody in drug sweeps that occurred on April 28 of that year.
Naiyma Holmes, 27, who works as an RHI administrative staffer, remembers that day when the cops came through the neighborhood after an 18-month investigation that started in 2004.
"I remember cops surrounded all the buildings early in the morning," Holmes said. "They raided two apartments in my building, right around the corner from Hicks."
The April 2006 raid resulted in about 153 arrests. The raid was a wake-up call for many in the community, which was viewed as a drug haven.
"I think [the raid] scared a lot of people," she said. "It made people change their life a little bit."
But the move to change Red Hook was not the result of a single effort. Many Black and white folks worked to make the community a better place.
One respected member of the community has been Greg O'Connell, a retired white New York City police officer who had the vision to see a better Red Hook community. O'Connell wanted to bring jobs back to Red Hook and improve the landscape.
In one area, he bought 28 acres from the Port Authority and redeveloped the area so it could accommodate businesses and apartment seekers looking for affordable spaces. With his efforts, entrepreneurs, manufacturers and processors began coming into Red Hook as the area became more settled.
Artists and low-income New York residents were also able to find inexpensive apartments, and business owners were able to find affordable office space. In addition, a new water taxi service was implemented, providing a much-needed connection to downtown Brooklyn and Lower Manhattan.
These new developments were welcomed by people of color, but with change came new demographics to the area. Red Hook, which was known for a large Black and Hispanic population for decades, suddenly had significant numbers of white folks. According to the 2010 census, there are approximately 1,727 white residents.
However, even with the new people in the area, many young people of color are not seeing the newcomers as a problem.
"There's always going to be a conflict between races," said Maribeth White, 24, who is African-American. "But it's not a huge issue from what I see out here in Red Hook just because of how the community is made up."