Morgan, Howard kicking off Urban League Classic
9/25/2011, 9:16 a.m.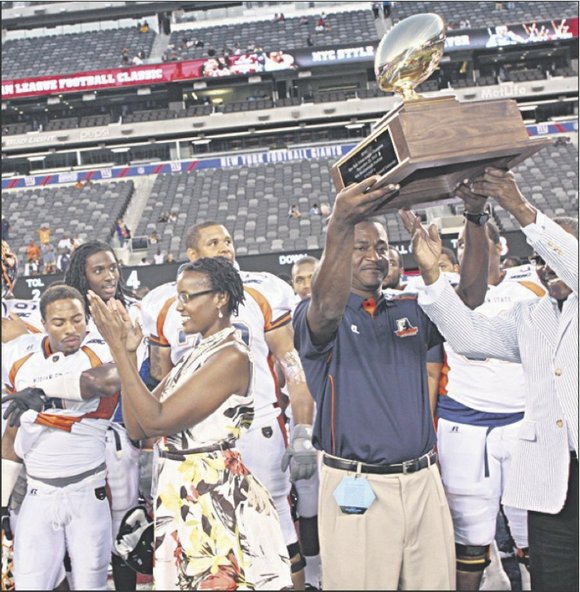 It's been 40 years and counting as the New York Urban League Football Classic once again kicks off Saturday at 3:30 p.m. at the New Meadowlands Stadium.
The Bears of Morgan State whipped the Howard University Bison last year and will be looking to repeat. The usual, familiar happenings remain part of the annual event, including the massive tailgating parties, the food courts and the vendors who come from around the country to hawk their wares, much to the delight of the attending fans. The lot will come to a virtual halt at halftime as the crowd rushes in to catch the Battle of the Bands.
More than 34,000 people attended the 2010 game - the first ever college game to be played at the New Meadowlands Stadium. This year NYUL hopes to increase attendance to 40,000 with R&B singers Eric Benet and Chrisette Michele scheduled to perform during the pre-game show.
"Of all of the events that the NYUL hosts each year, the football classic is an opportunity for everyone to give back. From the $25 sideline ticket to the VIP suite, all proceeds benefit our Whitney M. Young, Jr. Scholarship Fund and the educational programs of the New York Urban League, which empowers people to help the next generation with their educational needs," stated Arva Rice, President & CEO of New York Urban League. The nation's current economic climate puts our future leaders in a financial dilemma - resources from our scholarship fund often makes the difference between attending college tomorrow and a dream deferred."
For information about the game, please visit www.nyulfootballclassic.com