President Obama addresses CBC convention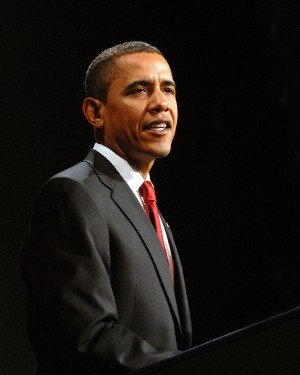 Before a crowd of over 2,000 people, President Barack Obama delivered the keynote address at the Phoenix Awards Dinner, sponsored by the Congressional Black Caucus. The event marked the end of the CBC's 40th annual convention in Washington, D.C.
The president used the opportunity to sell his American Jobs Act, which he has claimed will help African-Americans tremendously. During his 30-minute speech, Obama stated that through his $447 billion plan, "100,000 Black-owned businesses will benefit." He said that the bill's package includes a $1.4 billion five-year plan that will assist Black businesses, and that it will give funding to historically Black colleges and universities.
Obama said that this bill will provide funding to employ construction workers and school teachers, as well as give tax credits to businesses who hire African-Americans and others who may have been unemployed for a year or more.
He made very clear how the current economic crisis, which is affecting the African-American community the most, "was not created overnight and won't be solved overnight." Obama urged the CBC crowd to support his bill. "I need your help to make it happen," he said, adding that there is tremendous opposition to it in Washington.
The president also mentioned his displeasure over corporations and wealthy individuals getting more tax breaks than lower-income class citizens. He said that all Americans, regardless of financial status, should be treated equally. "The middle class should not pay more than a millionaire or a billionaire."
Obama emphasized, "Once we do well, we should all pay our fair share."
He then lambasted lobbyists and special interest groups for influencing politicians to advance their agendas ahead of helping their constituencies.
In regards to how the government should treat its citizens, Obama asserted, "We are our brother and sister's keepers...We're in this together."
The president also used his speech as a pep talk to African-Americans. He said that he acknowledged the difficulty currently being faced by the African-American community. However, he reminded his predominantly African-American audience that struggle was a part of their history. "Our history is filled with difficulty."
Quoting Dr. Martin Luther King Jr., he added, "Before we reach the majestic shores of the Promised Land, there is a frustrating and bewildering wilderness ahead. We must still face prodigious hilltops of opposition and gigantic mountains of resistance. But with patient and firm determination, we will press on."
Obama concluded his speech by stressing, "I expect all of you to march with me and press on. Take off your bedroom slippers; put on your marching shoes. Shake it off. Stop complaining, stop grumbling, stop crying. We are going to press on. We've got work to do, CBC."
Among the many dignitaries who attended the event was Georgetown University professor and radio host Dr. Michael Eric Dyson.
Dyson told the AmNews, "I think it was engaging and electric. I think that he signified within the context of his audience while signaling to us that it was important to deal with the broad American agenda while paying attention to how it affected African-Americans."