TEDxHarlem = A haven for ideas and innovators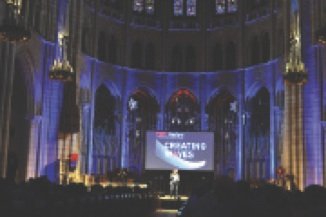 "To be an innovator, you have to be a master of your craft," said Coltrane Curtis, former MTV VJ and founder-owner of Team Epiphany, a marketing and communications agency. "Sometimes the biggest ideas are the one that are closest to our hearts."
Curtis' statement manifested itself during the third movement of TEDxHarlem, which was held at Riverside Church after the initial venue, the Apollo, proved too small to meet audience demand. Curtis emceed the third movement, "Innovation and Triumph," and everyone who spoke experienced a triumph of some sort, all innovators in their own right.
Bookended by two performances from Gallim Dance and Taylor McFerrin, social activists, restaurateurs, curators and future influencers took the stage at Riverside to discuss their ways of changing the world.
Thelma Golden, executive director of the Studio Museum in Harlem, talked about how innovation is best understood through art and how art could be a catalyst for change. Golden also touched on how the name of her place of business also matters and how the location of your business can be a product of the community and not just deliver a product to the community.
"Quite often, but not today, when people introduce me, they would say, 'She works at the Studio Museum 'of' Harlem,'" said Golden. "When I tried to correct people, they said it doesn't matter, but it does. I work in Harlem, but I also get to claim being a child of Harlem." Golden's father is a Harlem native.
Community was also the theme of Dr. Marta Vega's talk. Vega, the founder of the Caribbean Cultural Center African Diaspora Institute, focused her allotted time on her family from East Harlem and how around the world--from Africa to Brazil and from Ecuador to Puerto Rico--there's a shared cultural history with the African people. "I understand that in order to move in the world, I had to identify with the community," she said.
Peggy Shepard, executive director and co-founder of WE ACT for Environmental Justice, talked about environmental racism and her push to end such practices, which happen all over the world. "These zones are called 'Sacrifice Zones,'" she said when talking about neighborhoods like Harlem that are home to bus depots and sewage treatment plants. "Harlem is a 'Sacrifice Zone' despite $2 million brownstones." Shepard discussed how her fights against the city have resulted in monetary settlements, cleanups and new park areas that used to be filled with trash.
But TEDxHarlem wasn't all about adults talking to other adults. Alesha Taylor and Renlexis Castro, from the High School of Innovation in Advertising and Media in Brooklyn, introduced a design presentation that was created by students using zero cash. The "Let's Move" campaign urged teens to go outside and be active and included tie-ins with commercials, social media and mobile apps. "Why follow me on Twitter when you can follow me outside?" said one of the commercial voiceovers.
Ana Enriquez, 17, spoke about immigration and her personal experience working towards full citizenship after being smuggled across the Mexican border when she was 5.
"Some people ignore the issue because they're already citizens," said Enriquez, who calls Harlem home. "But they were born here. Immigrants come from everywhere--places like Europe, China and Africa. It's not just Mexico." After struggling with her grades at the beginning of high school due to having no hope of going to college because of her status, a friend informed her about getting a visa so she could work on her citizenship while working toward, hopefully, a college degree.
"I urge you all to support the DREAM Act, and if you live here, support the New York DREAM Act," she said. "It would provide help for immigrants who want to attend SUNY and CUNY schools and, hopefully, Syracuse."
Many of the speakers seem to be a product of where they were from but realized that they could provide a service to their environment whether through painting, business or activism. Golden's comments tied everything together.
"The goal is to be 'in' but also 'of,'" said Golden. "And being and doing the work that continues to be a cultural catalyst for change." Some of these speakers were already there. The rest are on their way.