Troy Davis Protestors take to the Streets: "This is what Democracy Looks like"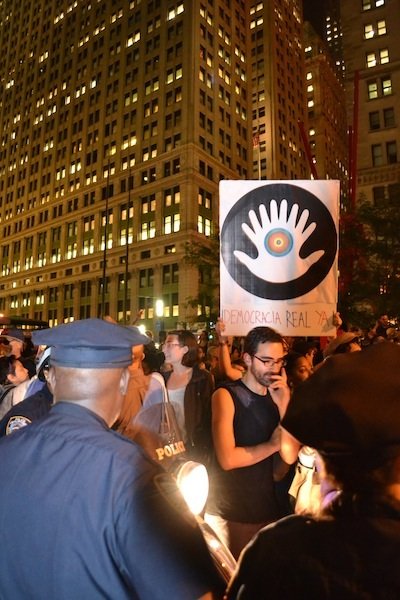 Once it reached Broadway the crowd had grown to well over 1000 and filled the entire street, stopping traffic completely as it marched with a new goal to join the protestors at Wall Street who have been protesting for the past week against the financial system that they say favors the rich over the poor.
"The people united will never be defeated," they chanted.
Once at Wall Street there was some confusion as to what the protestors should do next, and some stayed at Zuccotti Park while others marched on to Wall and Broad Streets .
Following a procession of drummers the protest on Wall and Broad Streets took on a half party feel in the smokey streats in a way only the Y generation can enjoy social change. The war-like drums continued as protestors were cornered between police barricades and began to clash with police when they tried to break through. At least one person was arrested in this interaction before police asked everyone to leave and began blocking off groups of protestors, splitting them up and pushing them back to Zuccotti Park.
Once at the park there was a "general assembly" where the reunited group tried to determine, democratically of course, what to do next. One member of the crowd yelled out "mike check mike check," and it was repeated by all around.
"Barricades are actually for our safety," said one protestor.
"Barricades are actually for our safety," repeated the crowd.
"Mike check mike check," said a different voice from across the crowd.
"Mike check mike check."
"I'm a little confused."
"I'm a little confused."
"And I think I'm not alone."
"And I think I'm not alone."
"Mike check mike check."
"Mike check mike check."
"If you want to march."
"If you want to march."
"Lets go to the First Precinct."
"Lets go to the First Precinct."
One group decided to stay fast at the park and continue the protests they started earlier this week while the other decided to march to the First Precinct to attempt to retrieve two CUNY students, Freddy Bastonna and Augustine Castro, and two members of the Malcolm X Grassroots Movement (MXGM, Brandon King and Joe Jordan, who according to police, had been arrested for resisting arrest.
"Let our brothers go," they chanted.
The contingent of about 50 young people was met by police in riot gear waiting for them outside the First Precinct. Faced with this threat the group, which included members of MXGM, sat down on the pavement and began to chant even louder, attempting to send hope and support to their imprisoned friends.
The police, affronted by this peaceful gesture, announced that the protestors would be arrested for obstructing traffic. Staying peaceful, yet again, the group pressed itself against the wall of the First Precinct. "You're obstructing traffic now," said a voice in the crowd and the seemingly surprised police pressed against the wall too. An awkward man in a grey suit walked on by.
"We are men and women and they are beasts," said Kilo Vasquez among a group of friends who were leading the protest. "we are free and they (pointing to police) are slaves."
Members of the group including Domingo Estevez and LaMont Badru made impassioned speeches about solidarity and sticking by in times of need. The group chanted outside of the First Precinct for about an hour, sitting on the pavement surrounded by police, before voting to retreat back to Zuccotti Park under renewed threat of mass arrest.
"Mike check mike check,"
"Mike check mike check"
"Some people have changed their vote, we don't want to risk losing the momentum we have gained today," said Domingo Estevez, making the difficult decision to leave his close friends in jail in order to maintain support for the movement.
"This is what democracy looks like," they chanted.
Various groups have called for post-protest meetings, to continue the activism and organize collectively. The Zuccotti Park protest continues its live-in stay on Wall Street. The International Socialist Organization will be holding a meeting, "why they murdered Troy Davis, racism, capitalism and the injustice system." on Wednesday September 28 at 6:30 p.m. at Saint Mary's church in Harlem. Members of The Malcolm X Grassroots Movement said they will also be announcing meetings in the wake of these protests via their Facebook page.