Postal workers protest proposed closings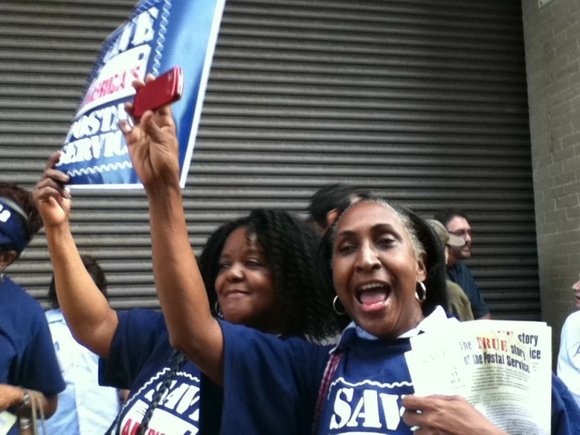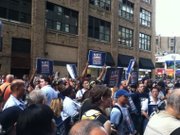 On Tuesday, postal workers held rallies at 492 locations in every congressional district around the country to speak up about proposed layoffs and cuts to the United States Postal Service. In New York state, large rallies of postal workers also took place in Syracuse, Albany and Buffalo.
Workers rallied at the Adam Clayton Powell Jr. State Office Building in Harlem, joining their co-workers in cities across the country to protest proposed layoffs, cutbacks and closures. The postmaster general is recommending these measures to offset a multibillion-dollar budget deficit.
However, Bill HR 1351, introduced earlier this year to save the postal service from financial collapse, is gaining attention on Capitol Hill as well as support from postal unions and management. The bill would allow the postal service to apply billions in overpaid pension funds to a congressional mandate. The USPS is required to pre-fund the health care benefits of future retirees for 75 years at a cost of more than $5 billion annually. No other government agency or company is required to do this.
Meanwhile, postal workers are fighting just to save their jobs, though some understand the reason for the proposed downsizing.
"It's inevitable that they have to downsize, but I don't think they should replace career employees with casuals, temps or lower wage earners because this is an attempt to break the union and eliminate contracts and set wages. The service will be degraded in terms of efficiency," said Daniel Dease, a postal employee since 1986.
"Managers are not unionized, and they make bad decisions that affect the fiscal integrity of the post office," he continued.
Marcus Whitley, a 12-year employee of the post office who lives in Harlem, said, "It won't affect the community as much as they think. They will still get their delivery. It will affect the businesses, and I feel for them because they expect to get their Saturday delivery. You drop off a bulk of mail and it has to sit there for two days. If closing on Saturday will save the postal service, they have to do what they have to do," he said.
"We're just fighting to protect our jobs. We're the front end. We get the mail done at all times. Our policy is that we deliver," said Lynette Smith a 25-year post office veteran from the Bronx.
Raquel Taylor, a 15-year postal employee from New Jersey, added, "I think it's unfair. I believe that the customers deserve service. We've been doing this for many years and we should continue to do it. We're the only service, that provides six-day service and it should stay that way.
"I believe that we serve America greatly," she concluded.
In New York City, about 200 postal workers and their allies met outside the post office on Varick Street.
"What's disgusting? Union busting," chanted members of the American Postal Workers Union, who held signs reading "Save America's Postal Service."
A contingent of protestors from Occupy Wall Street came to a unanimous consensus to march over to the rally to stand in solidarity with the postal workers. This group marched for an hour and a half around various police road blocks on their way to Varick Street, where they finally joined the postal workers.