Building bonds between the African-American church and the labor movement: Part 2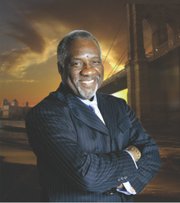 This column is the second in a series jointly written by Mike Fishman and the Rev. Johnny Ray Youngblood about the need for a stronger alliance between the labor movement and the African-American church and their work toward that goal.
Fishman is president of 32BJ, the Service Employees International Union local for 120,000 janitors, security officers and other property service workers throughout the Northeast. Youngblood is a pastor who built St. Paul Community Baptist Church in Brooklyn from fewer than 100 members to 8,000 before he moved on in 2010 to become executive pastor of Mt. Pisgah Baptist Church.
Martin Luther King Jr. believed that if the labor and civil rights movements joined forces, they would have unbounded potential to achieve change, as he wrote in a letter to the Amalgamated Laundry Workers in 1962: "As I have said many times, and believe with all my heart, the coalition that can have the greatest impact in the struggle for human dignity here in America is that of the Negro and the forces of labor, because their fortunes are so closely intertwined."
We have seen the potential King spoke of in our own work. When unions and African-American churches join together, they magnify their voice and power. However, too often, labor and the church fail to recognize this natural alliance. They operate in separate worlds.
Until we met about five years ago, we knew little about each other's work and our respective institutions. 32BJ and the labor movement were one thing. St. Paul's Baptist Church and the African-American church community were another. Only after we got to know each other personally did we realize how much we had in common. Only after we had worked together did we see firsthand how much unions and the church could accomplish.
At the time, 32BJ was running an organizing campaign to help thousands of nonunion private security officers in New York City join its ranks. The private security officers who guard our city's government, commercial and landmark buildings are primarily African-American and most are men. They work hard, but the better they are at the jobs, the less likely that people notice they are there. They protect property, guard people's safety and maintain peace so that everyone else can go about their daily activities.
Prior to this campaign, the overwhelming majority of the 60,000 private security officers in the city were paid low wages with little to no benefits. Turnover was high. 32BJ was working to help these underpaid officers join together to improve their pay and working conditions. However, for some officers, the prospect of union activism initially seemed to conflict with their strong sense of duty to keep order and protect buildings and office tenants. They weren't used to the idea of coming to rallies and marches, the kind of street action necessary to move the big corporations that employ security officers.
32BJ sought to raise awareness about the racial issues underlying conditions in the industry: If private security officers were white, they would be treated--and paid--much better. To help get across this message, 32BJ sought a partner in the African-American church.