Kappa Omicron at Five Boroughs and Veterans Food Pantry drive
4/25/2012, 4:46 p.m.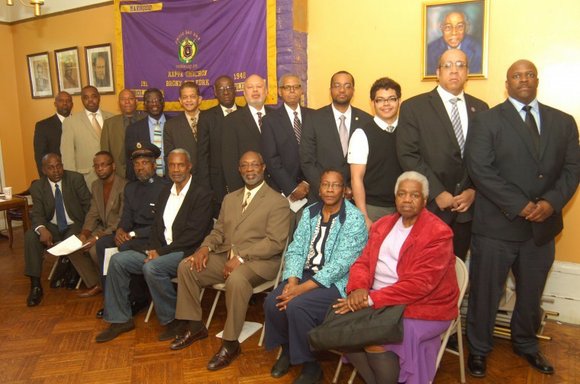 Kappa Omicron held its fourth food pantry ceremony on Saturday, April 21 at Kappa Omicron Fraternity House. Six food pantries received a fully paid invoice from the Kappa Omicron chapter of the Omega Psi Phi Fraternity for 88 cases of food that they can pick up immediately from a large food wholesaler. Since 2009, Kappa Omicron has donated 2,100 cases of food to pantries.
To help their fellow human beings, Kappa Omicron has provided large quantities of food to pantries in the past. It organized the Five Boroughs Food Pantry in 2009, and over a four-year period, has been able to donate all kinds of essential foods to needy people, such as packages of meat, canned food, cooking oil, fruit and vegetables. Last year, Kappa Omicron provided 520 cases of food to five food pantries and their veterans counterpart provided an additional supply of food to a sixth food pantry.
Co-Chairs Raymond Haskins and Thomas Wallace founded the project and are assisted by committee members Percy Lambert, Charles Johnson, Lennitt Bligen Sr., Cory Williams, Relester James, Eddy Parisen and Kevin Woodhouse. Kappa Omicron was charted in 1948. Omega Psi Phi Fraternity recently celebrated its 100-year anniversary in November 2011.