Off to Universal City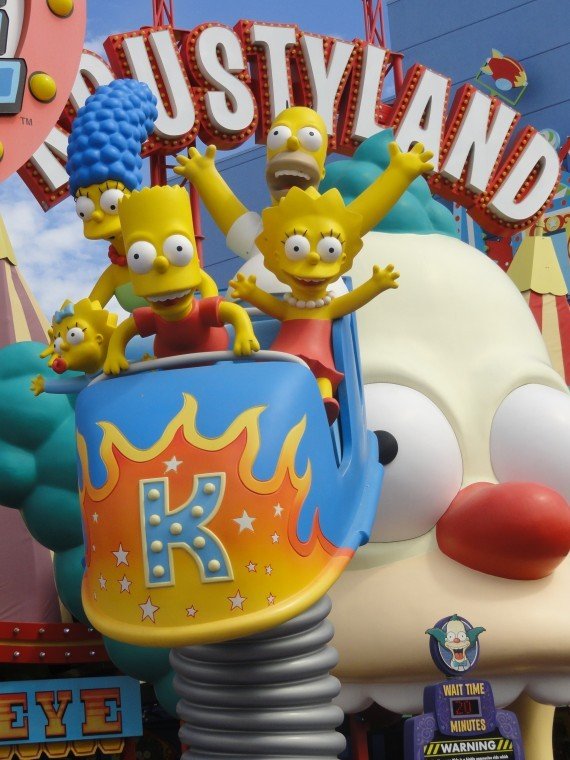 If a virtual roller coaster is more your speed--but still with a few jarring moves--try the animated world of "The Simpsons." From the Kwik-E Mart souvenir shop out front to the humongous caricatures of Bart, Lisa, Homer, Marge, Maggie, Krusty the Clown and others, episode reruns, tons of "Simpsons" memorabilia and "Bart-isms" flanking all areas of the ride queue area, to the flying and crashing scenes in the ride itself, this section of the park is really its own astonishing attraction.
Depending on the show, audience members experience a range of special effects including gyrating seats, surround sound action and intermittent and very unexpected spurts of air and streams of water from above, below and in front of you--together bringing the action to life.
I think my favorite attraction was "Shrek 4-D," a hilarious adventure taking off from the end of the first movie after Shrek and Fiona get married and embark upon their honeymoon. I won't spoil it, but suffice to say, Lord Farquhar is still wreaking havoc on the happy couple, Donkey and other characters from Far Far Away.
"Terminator 2:3D" is also highly entertaining, as it incorporates state-of-the-art technology with live actors--who really look like the characters from the "Terminator" movies!--into what really is more like a state production. Whether you've seen the movies or not, this show is one not to be missed.
Other worthwhile shows and attractions include the "Special Effects Stage," "Universal's Animal Actors" (held in an outdoor amphitheater), the walk-through "House of Horrors," "The Blues Brothers," "The Adventures of Curious George," "Transformers The Ride: 3D" and "Waterworld," among others.
Next up, we embark upon the Universal Studios Tour.
Lysa Allman-Baldwin writes for numerous online and print publications, including as the cultural travel writer for www.Examiner.com and as a senior travel writer for SoulOfAmerica.com, an Afrocentric travel website.