The Hollywood experience in Universal City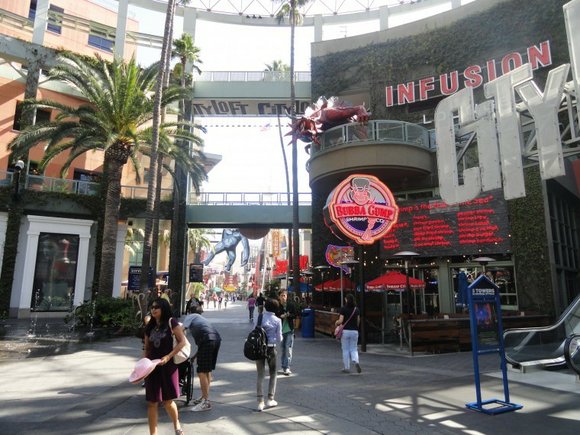 Other dining options here include Hard Rock Cafe Hollywood, Jody Maroni's Sausage Kingdom, Jillian's, Tony Roma's, the Coffee Bean and Tea Leaf, Wasabi at CityWalk, Camacho's Cantina, Pink's Famous Hot Dogs, Bubba Gump Shrimp Co., the Crepe Cafe, Samba Brazilian Steakhouse and Lounge, Tommy's World Famous Hamburgers and Wolfgang Puck Bistro, in addition to numerous others.
Shopaholics will find loads of options from health, beauty and specialty products to toys and Hollywood memorabilia, games, novelties, accessories, footwear and apparel, candy, ice cream and more. And since California is a sports mecca, there are local nods here with the Dodgers Clubhouse Store and the Raider Image (yes, although the silver and black moved a few hours "up the road" many years ago, the Raider Nation still reigns here).
Attractions for the entire family include Jillian's Hi Life Lanes with rock 'n' roll and virtual bowling and arcade and video games, and iFly Hollywood, a very cool skydiving adventure inside a vertical wind tunnel. From wee 3- to 4-year olds to experienced skydivers and everyone in between, all will enjoy this safe, wall-to-wall airflow "ride." And for more movie magic, there's the 19-screen Cinema Stadium AMC movie theater with a seven-story IMAX theater.
If you desire a grown-up evening out, nightlife here encompasses the Jon Lovitz Comedy Club, Infusion Lounge, Saddle Ranch Chop House and, of course, the Hard Rock Cafe, among others, plus a bevy of special concerts and other entertainment events.
The end of a beautiful weekend
Wholly satisfied in every way, I bypassed the shuttle and leisurely ambled back--a hellacious but doable trek on the way up that's steep but easy on the way down--to the Sheraton, grateful for the entire experience and, surprisingly, day dreaming about what I would enjoy here the next time.
And you know, I would go back. L.A. is, after all, the place where dreams--at least Hollywood's version of them--can come true.
Resource list:
iFly Hollywood: (818) 985-4359, www.iFLYHollywood.com
Jillian's Hi Life Lanes: (818) 985-8234, universalcity.jilliansbilliards.com
Karl Strauss Brewing Company: (818) 753-2739, www.karlstrauss.com/PAGES/Eats/CityWalk.html
LA INC. The Los Angeles Convention and Visitors Bureau: www.discoverLosAngeles.com
Sheraton Universal: (866) 716-8134, (818) 980-1212 www.sheratonuniversal.com
Universal CityWalk: www.citywalkhollywood.com
Universal Studios Hollywood: 1-800-Universal, www.universalstudioshollywood.com
Lysa Allman-Baldwin writes for numerous online and print publications, including as the cultural travel writer for www.Examiner.com and as a senior travel writer for SoulOfAmerica.com, an Afrocentric travel website.