Danny Glover: 'I'll see Mumia when he comes home!'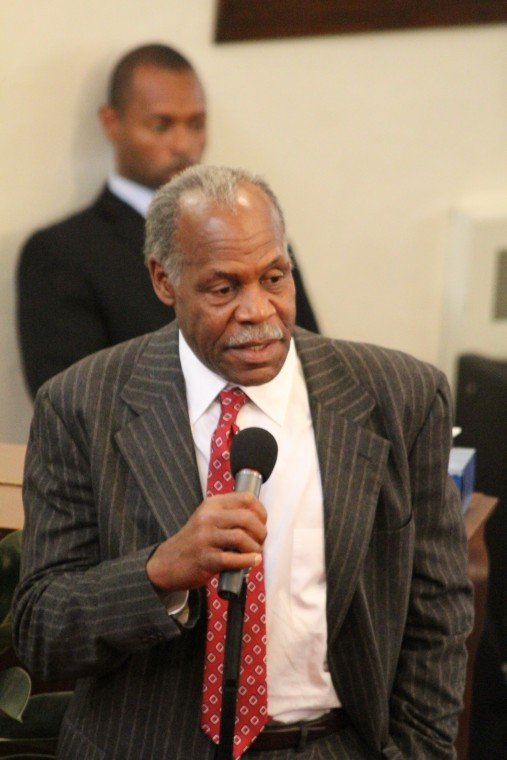 "If we continue to do the work and demand justice--I think that everything is in place for Mumia to come home," actor-activist Danny Glover told the Amsterdam News.
Like good old-fashioned activism from the days of yore, this past Tuesday, April 24, a broad coalition of community organizers, activists, artists, students, scholars, celebrities and concerned individuals held a national rally and protest at the headquarters of the U.S. Department of Justice (DOJ) in Washington, D.C.
The protest was held on the 58th birthday of political prisoner Mumia Abu-Jamal to call for his release. Renowned activists, including hip-hop artist M-1 of the duo Dead Prez, participated in acts of civil disobedience at the protest.
Organizers hoped that their actions would dramatize their formal request that U.S. Attorney General Eric Holder "meet with a delegation to discuss systemic police corruption and civil rights violations in Abu-Jamal's case and in the cases of hundreds of others across the nation."
Asked if he thought that Holder and the DOJ in general were hearing the calls to free Abu-Jamal, Glover replied, "What they are listening to, and what they hear profoundly, is the fact that people are still questioning what is happening and what has happened. Certainly, the basis of bringing Mumia home is not based on the rallies. It is based on the fact that the information has prevailed and is going to allow people to challenge what is going on."
Glover praised the fortitude of the anti-death penalty proponents who have fought for years on cases such Abu-Jamal's. "The fact that we have come this far gives us the opportunity to go even further with this case."
A former Black Panther and a prolific writer and much-sought-after political commentator, Abu-Jamal was framed for a murder he did not commit, according to a world of supporters. Millions have demanded his release, including international governments and heads of state from France to South Africa, from President Nelson Mandela to Archbishop Desmond Tutu and members of Congress, the European Parliament, the NAACP, labor unions and Amnesty International.
On Dec. 9, 1981, in Philadelphia, journalist Abu-Jamal was arrested for the killing of a Philadelphia police officer, Daniel Faulkner. In 1982, he was convicted and sentenced to death row. Last year, the Supreme Court let stand the decisions of four federal judges whose unanimous rulings stated that Abu-Jamal's 1982 death sentence was unconstitutional. In early December, the Philadelphia district attorney's office decided that it would no longer pursue a death sentence in this case and his original sentence was commuted to life in prison without parole.
Supporters of Abu-Jamal have cited a mountain of evidence as the need for his immediate release or at least a new hearing. Arnold Beverley came forward and said that it was he--not Abu-Jamal--who shot Faulkner at the behest of a certain police officer. For years, witnesses have come forward and recanted testimony that they say was coerced by members of the Philadelphia Police Department.
Glover notes that the cops involved in the violent arrest and shooting of Abu-Jamal in 1981 were already under the spotlight as part of a DOJ investigation of the Philadelphia Police Department. Mere days after Abu-Jamal's conviction, 15 of the 35 police officers involved in collecting evidence in his case were be convicted and jailed, including Alfonzo Giordano, the police inspector in charge of the crime scene investigation.