Danny Glover: 'I'll see Mumia when he comes home!'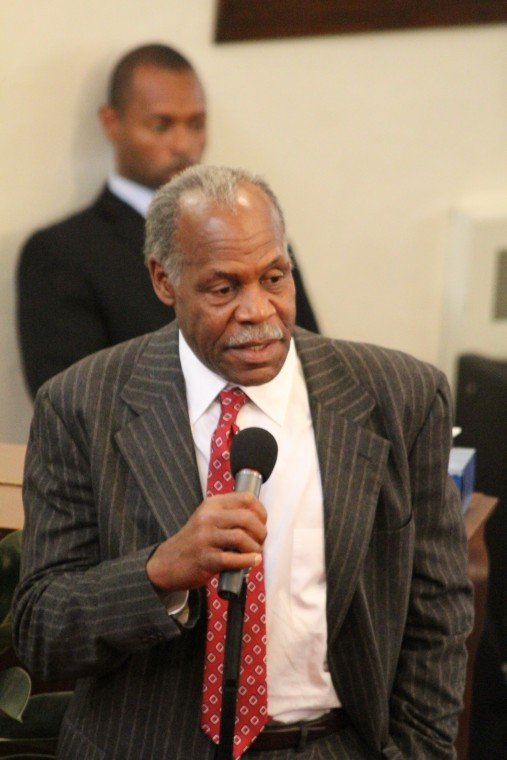 All this notwithstanding, Abu-Jamal remains behind bars.
Glover stated, "The fact that the death penalty was removed from over Mumia's head...is huge. An attempt by the state to kill someone, to murder someone, and to have failed to do so, essentially brings to the public attention the case of Mumia. We have to understand that there's another space that is open now to uncover the real killer of officer Faulkner."
An informed optimist, Glover is clear about why Abu-Jamal sparks the consciousness of activists worldwide. "Well, aside from the obvious injustice, Mumia is a journalist and he continues to write. He is published. People continue to read his words and hear his voice constantly. Journalists around the world...have been murdered, framed, incarcerated, etc....to keep them quiet. The fact that some people wanted to keep him quiet is something we can't underestimate," Glover told the AmNews. "People were aware of what he said, as well as what he wrote, and that has enormous ramifications on understanding exactly what this case is about."
Glover is an internationally known superstar. He could be sitting on a beach somewhere chilling. Instead, he is out in front of some of the most controversial issues.
"Some people try to figure out my involvement. The fact is that I have a history of fighting for justice wherever I feel there is injustice. It is what people often respond to. I often reflect on work that I do and what issues I take on. I think it is much larger than just me being a celebrity, I've always put myself in a situation where I try to demystify what people often think of the causes [I deal with].
"I try to deal with the real issues. The death penalty is a real issue; Mumia's case is a real issue. I've been an avid opponent of the death penalty for more than 40 years. Whenever the death penalty arises, I am against it."
Perhaps surprising to some, given his degree of staunch involvement, Glover has not actually spoken with Abu-Jamal. "I haven't seen him at all. I haven't written to him or talked to him at all. I don't feel that it's necessary in order to express my feelings about this case as a citizen. I will see him, I'm pretty sure, when he comes home. I don't need to see someone in order to validate my engagement in their struggle, but that doesn't diminish the sincerity of those who go to see him or go to talk to him or bring back messages from him."
Long known to be a supporter of the "Cuban Five," Glover noted, "I go see Geraldo Hernandez, one of the Cuban Five, typically because that case is so isolated. And I know that if we take some pictures, that picture would not only find its way to becoming part of his own personal album, but to all the people who support him around the world and Cuba itself--that is a different situation.