David Dinkins Tennis Club to name courts in honor of Sydney Llewellyn
4/26/2012, 2:20 p.m.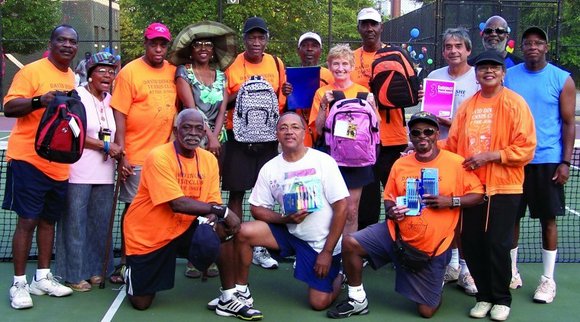 At a ceremony on Saturday, May 5, the tennis courts at Seventh Avenue and 151st Street in Harlem will be named in honor of Sydney Llewellyn, the legendary tennis teacher who taught and boosted the career of Althea Gibson, the first African-American to win championships at Wimbledon, the French Open and the U.S. Open.
Llewellyn's home, because of its fierce competition, became known as "The Jungle," dating back over 50 years. Llewellyn and a handful of African-American men and women taught the game of tennis at the Jungle, including Arvelia Myers, who has run a summer junior program at the Jungle for more than 30 years and is a longtime USTA volunteer at the U.S. Open.
In addition to Myers, others who will be recognized include pioneer teachers and coaches such as Claude Cargil, who taught and coached basketball as well as tennis and track; Bill Brown, who founded the Harlem Junior Tennis Program, which today is administered by Katrina Adams; and Sam Penceal, the former hoops legend from Boys High School (Brooklyn) and Syracuse University who directed the program in the mid-1980s, along with Bill Holloway, the community tennis activist.
"We are combining this event with the first annual Jungle Reunion for those who have played there over the years," said Penceal. The David Dinkins Tennis Club at the Jungle was awarded a grant to help increase tennis participation in the community. "We will focus on attracting families to join our effort while using Under 10 tennis equipment and teaching strategies to get people playing the game quicker and enjoying themselves sooner," he added.
Last year, at the David Dinkins Tennis Club's annual Labor Day event, club members collected and distributed school supplies to children as part of their community involvement. Members also distributed gifts to the Urban Women's Retreat for battered women.