Gwendolyn Brooks: A master of poetic verse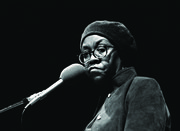 Today's lesson looks at Gwendolyn Brooks, who brought visions of Black inner-city life alive through her poetry.
Brooks was born on June 7, 1917, in Topeka, Kan. Her mother, Keziah Wims Brooks, was a schoolteacher. Her father, David Anderson Brooks, was a janitor. The family moved to Chicago soon after Brooks was born and she would live there the rest of her life.
Brooks loved to read and write and was encouraged to do so by her family. She spent most of her childhood immersed in her writing. She saw the hard life and injustices Black people suffered; she wrote about it. She also saw how Blacks were prejudiced against each other; she called them out on it.
She became a published poet at the tender age of 13 with her poem "Eventide," which appeared in "American Childhood." She attended poetry workshops and continued to sharpen her skills. By the time she was 16, Brooks had written more than 75 poems and was frequently published in the Chicago Defender.
Brooks published her first volume, "A Street in Bronzeville," in 1945, and a second collection, "Annie Allen," in 1949. The following year, Brooks made history as the first Black author to win a Pulitzer Prize.
Though racial injustices and the struggle for harmony continued to be the themes of her work, Brooks began moving away from traditional forms of poetic verse to free verse. She also began to use the language that would make her work more appealing to audiences outside of universities and magazines.
"In the Mecca," "Family Pictures" and "What You Are You Are" were intended to give the reader a stronger sense of racial awareness. Brooks was disappointed with the lack of unity among Black people. She urged the Black community to look to itself and break free from the controls of white society. These sentiments were reflected in "Beckonings" and "To Disembark."
Brooks took her poetry to the people. She encouraged others to write. She sponsored workshops and poetry contests. Her poem "We Real Cool" was published in 1959 and is one of her most popular works. Her inspiration was a group of seven young boys she saw shooting pool in the middle of the afternoon on a school day.
"We Real Cool"
The Pool Players.
Seven at the Golden Shovel.
We real cool. We
Left school. We
Lurk late. We
Strike straight. We
Sing sin. We
Thin gin. We
Jazz June. We
Die soon.
In 1985, Brooks was named as the poetry consultant for the Library of Congress. Chicago State University established the Gwendolyn Brooks Center on its campus. Brooks continued to write, testing out her poems on audiences from universities to taverns. In her book, "Children Coming Home," published in 1992, Brooks presents powerful verse based on her experiences with children from Chicago's South Side told from a child's view. The cover of the book looks like a school composition book. Brooks focused on encouraging children to read and write poetry, giving readings all over the country.