Judge William Thompson Sr., 89 and still kicking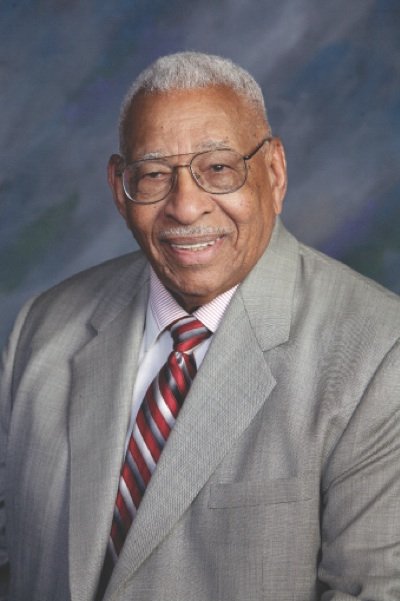 At age 89, William Thompson Sr. is showing no signs of stopping or holding his tongue when giving his opinion on anything. The father of mayoral candidate and former City Comptroller Bill Thompson Jr. has lived a life that has put an imprint on New York's political legacy.
Even though he retired in 2001, he proudly says he makes it to the office by 7 a.m. every day. Thompson continues his work in arbitration and mediation. Even though his days as a politician and judge are behind him, he still weighs in on the current political scene while recalling the path he and his colleagues paved in New York State.
Born in Manhattan, Thompson was raised in the Crown Heights section of Brooklyn. Due to racism at the time, he said only two professional careers were in his reach: being a doctor or a lawyer. He opted to go into law.
"In those days, there was so much discrimination that if you wanted to be something like a banker, it didn't exist for Black people," he said. "Our parents always pushed us to be either doctors or lawyers."
He graduated from Brooklyn College and later Brooklyn Law School, where he was one of six Blacks in the graduating class of 1954. He started out practicing criminal and tenant law.
Getting a start in his political career, he became one of the first Blacks elected to the state Senate in 1965, serving until 1968. While in office, Thompson was chairman of the Joint Legislative Committee on Child Care Needs, and he sponsored over 25 bills that were signed into law.
His colleagues at the time included a dynamic class of Black political heavyweights that included Shirley Chisholm, Charlie Rangel and Percy Sutton.
"We changed the face of Albany," he said. "When I was elected, there were only three Black elected senators. Almost nothing was Black before we got there. It was totally white and we integrated it."
In 1969, Thompson was elected to the New York City Council, where he served until 1973. A year later, he became a justice of the Supreme Court and was designated an associate justice of the Appellate Term, 2nd and 11th districts, which covers Queens, Richmond and Kings counties. In his over 20-year career as a judge, he saw 24,000 cases.
During his career, he was instrumental in integrating unions in the city. He's credited with putting Black men to work on several major construction projects during the 1960s and 1970s. He was also a founding member and continues to be a board member of Bedford Stuyvesant Restoration.
Said Thompson, "We got more Blacks in the union getting all kinds of jobs from A to Z. Those are the things that started to count. It makes you feel good, the doors you open."
In 1978, Thompson was appointed assistant administrative judge in charge of the Supreme Court for Brooklyn and Staten Island. Two years later, he was designated by Gov. Hugh Carey an associate justice of the Appellate Division, Second Department.
As his son embarks on another mayoral run, like any proud father, he is supporting his son as he continues to follow in his footsteps of making changes in New York politics.
"Billy right now is a frontrunner, no matter what people say," Thompson said. "Billy doesn't scare people. He is solid and levelheaded, brings people together and people trust him. He's not looking to throw money away but looking to get things done."
When asked if he has any plans to stop working as he reaches age 90, Thompson responded, "No, I enjoy it. It keeps me alive and it keeps the mind going."