Over 1,000 occupy the DOJ for Mumia's 58th birthday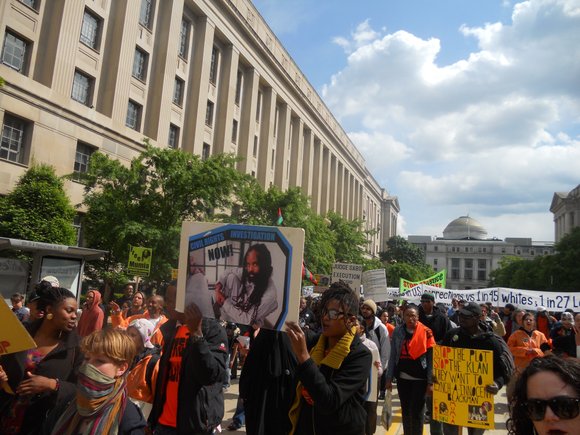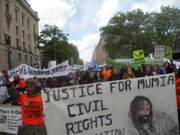 A week after Tuesday's strong show of support against government repression at the U.S. Department of Justice in Washington, D.C., there will be a People's Power March in Philadelphia, where a mass rally protesting the tyrannical conditions Black people face in America is scheduled for 12 p.m. at 52nd and Market streets.
Blaring Stevie Wonder's birthday ode to civil rights activist Dr. Martin Luther King Jr., a contingent of approximately 1,000 Mumia Abu-Jamal supporters from around the planet converged at the Department of Justice's front door on Tuesday morning. They chanted along, commemorating the 58th anniversary of Abu-Jamal's physical birth, there to demand that he be granted a new trial, as well as an end to mass incarceration.
"We represent millions around the world," indicated the uncompromising Pam Africa, the MOVE organization's minister of confrontation. "Mumia is serving life in prison [rather than being on death row] and these motherf---ers are scared because they know we're building a powerful movement around the world to not only bring Mumia home, but all the other political prisoners--we're going to tear this motherf---er down!"
As usual, a contingent of international advocates displayed their support for the political prisoner who spent over three decades enduring inhumane conditions on Pennsylvania's death row prior to having his death sentence dropped last December and being transferred to general prison population.
Throughout the outdoor rally, messages from fellow political prisoners of war were played over the P.A. system as Dr. Mutula Shakur, Sekou Odinga and Sundiata Acoli all wished Abu-Jamal a happy birthday. They also addressed government corruption, which leads thousands of innocent men and women into America's dungeons.
Sister Deequi Kion-Sadiki, of the Malcolm X Commemoration Committee, read a list of political prisoners--some well-known, others not as prominent-- who have contributed greatly. She then addressed racial profiling and other circumstances that lead many inner-city youths to becoming part of the prison-industrial complex.
"We, the people, have the power to change this system, which has historically and persistently super-exploited the many for the political, economic and social benefit of the few," she said.
Grassroots hip-hop artists expressed themselves while simultaneously detailing the topic at hand. Dead Prez, Rebel Diaz and X-Clan were only a handful of the notables present.
Johanna Fernandez, producer of the revealing documentary "Justice on Trial: The Case of Mumia Abu-Jamal, proclaimed, "This is a wonderful moment in the case of Mumia Abu-Jamal. It is also a wonderful moment in the struggle to bring down mass incarceration."
She then challenged the audience by quoting a line from Frantz Fanon's "Wretched of the Earth": "Each generation must discover its mission, fulfill it or betray it, in relative opacity."
Revolutionary hip-hop artist Public Enemy's Chuck D outlined the agenda of the prison-industrial complex before revealing his current movement, "Occupy the Urban Radio Stations." He warned, "If you don't detach yourself from nonsense and attach yourself to the rest of the planet and movements that are going on, you will forever be a slave in America."
The audience erupted in applause when it was announced that Abu-Jamal had called in live.
"I want y'all to know that it is wonderful to know you are there," he stated before speaking about his first birthday not being held captive in the 10-by-6-foot cell where he endured the monotony of being held on death row for over three decades.
He then commented about the prison-industrial complex, mass incarceration and abolishing the death penalty and solitary confinement. "It took years of long, hard work to build my case into what it is today--part of a movement--thanks to you. I thank you all for coming out today."
Tuesday, May 1 will see the May Day protest, "The Center of Repression," in West Philadelphia. For more information, email maydaymarchphilly@gmail.com or call (610) 352-3053.