Shopping, eating and amusement in and around San Antonio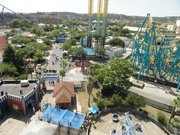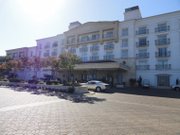 Despite freely enjoying our hilltop paradise at the Westin La Cantera Resort, our group did venture away a few times to enjoy a little bit of San Antonio. We had several exciting options, a few just a stone's throw away from resort.
Billed as San Antonio's newest and most exclusive shopping experience, the Shops at La Cantera is home to San Antonio's first Neiman Marcus and Nordstrom stores. The Shops offers 1.3 million square feet of upscale retail shops-150 in all-including Tommy Bahama, Abercrombie & Fitch, Lacoste, Frederick's of Hollywood, Williams-Sonoma, Ann Taylor, Sephora, the Body Shop, White House Black Market and the Children's Place, just to name a few. Entertainment facilities and restaurants are numerous as well. P.F. Chang's China Bistro, Yard House, Brio Tuscan Grille and Kona Grill are among some of the most recognized spots.
For more gastronomic fun, a few sojourned to the Pearl. A true San Antonio culinary and cultural historic destination, the Pearl is home to the newest location of the Culinary Institute of America, and is highlighted by numerous merchants, cooking demonstrations and tastings from local chefs and a Saturday "producers only" farmer's market.
AMUSEMENTS GALORE
La Cantera Resort is also close to two other popular San Antonio attractions: SeaWorld San Antonio and Six Flags Fiesta Texas (there is a complimentary shuttle from the resort to Six Flags).
Kids of all ages from all over the United States enjoy SeaWorld, the world's largest marine life adventure park and family entertainment showplace. Here you will find fun and educational exhibits like Dolphin Cove, Rocky Point Preserve, Penguin Encounter, Alligator Alley and Lorikeet Feeding. Thrilling rides like the Steel Eel, Journey at Atlantis, Shamu Express, Great Whale, Quick Queue and Rio Loco are big hits as well.
Visitors can choose from more than 25 sensational shows like the Cannery Row Caper, One Ocean, A Beluga Story and Azul (the famous Orca splash zones are a must!). You can also participate in SeaWorld's Animal Interaction Program, where guests not only learn about sea lions, sharks, dolphins, beluga whales and other marine creatures, but they actually get to enter the tanks and engage in interactive activities with the animals. It's a unique opportunity to get up close and personal with these beautiful creatures and learn more about their presence and environmental impact around the globe.
Apparently it had been a while since some of us had been to an amusement park, because once inside the gates of Six Flags Fiesta Texas, our ages dropped to our shoe sizes! We ran around like children let loose in a candy store: "Ooooh, the Ferris wheel!" and "I call shotgun on the water plume!" (Who says once you turn "achoo!" you're too old to be a kid?!)
From thrill rides like the twisting, spiraling Poltergeist to the Superman Krypton Coaster and the Rattler, a classic wooden roller coaster; a variety of less intense and children's coasters; aqua adventures like the Lone Star Lagoon and Tornado; and time-honored amusement park attractions (bumper cars, carnival games, tea cups, flying swings, arts and crafts booths, theater shows and so forth), Six Flags is just plain fun!