Adesola Osakalumi on Broadway: Fela's back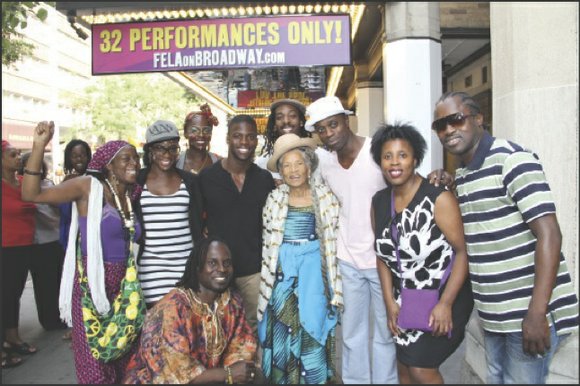 "Fela!" only has a few more days left on Broadway; it comes to the end of its 32-show run on Saturday, Aug. 4. First-timers and devoted fans who have seen the musical multiple times alike are snapping up the last of the tickets.
Adesola Osakalumi projects a confident swagger but with a cool shyness that belies the bravado it takes to play Nigerian cultural hero Fela Anikulapo Kuti.
Osakalumi told the Amsterdam News that his preparation for that portrayal is very intense.
"I meditate," he revealed simply. "I get very calm and relaxed and look for room to let Fela come in; I take myself out of the equation and let Fela mingle and move forward. That way I'm not just acting, I am transforming."
"Fela!" takes the audience from the vibrantly bright and not-quiet opening scenes where belligerent drums grab the waist of Afrobeat, American jazz and Cuban sway to the grimy funk and those "dirty guitars."
And there is of course the yansh--the bass, the rawness.
Four men have played Kuti in the musical presentation of this man's life. The show has seen the convincing magnificence of Sahr Ngaujah, the smooth delivery of Kevin Mambo, the stealth-like brilliance of Duain Richmond, the alternate Kuti, and the fabulous intensity of Osakalumi.
While Ngaujah's talents have him heading to a new TV drama based in Hawaii, Osakalumi and Richmond keep the "Fela!" energy and inflections where they need to be.
Playing Kuti well is no small feat. He was an activist musician who took on Nigeria's military regimes and built an anti-corruption movement for the poor and downtrodden while creating his Kalakuta Nation, producing over 70 albums and touring parts of Africa, America and Europe.
"I have done a lot of research into the role and physical preparation--getting myself physically prepared for the role," said Osakalumi, "because there is a very physical component of the show that is definitely as demanding as the emotional component."
Playing the Nigerian icon is something close to his heart.
"I was very familiar with Fela's music. My father and uncle opened a record label, and Makossa Records [their label] was the first record label to distribute Fela's music in America. So my father met Fela, knew Fela and did business with Fela."
The stories he heard growing up gave him "insight into [Kuti's] character and personality," but with all the historical, cultural and even spiritual significance entwined in his story, Osakalumi added, "I feel it is a huge responsibility.
"My family is very excited, but they know how challenging it is and how much of a commitment it takes; I feel I'm continuing the legacy and work they started. They were instrumental in having his music exposed to the world, and particularly in North America, and now I have the honor and pleasure to portray him on stage," he said.
This reporter--who also grew up on Kuti's music and the stories and met him twice in England, once even having dinner with "The Queens," his wives, and their children--ventured to ask Osakalumi about how Kuti's family has responded to the play.