From undrafted free agent to the Pro Bowl, Brandon Moore has seen it all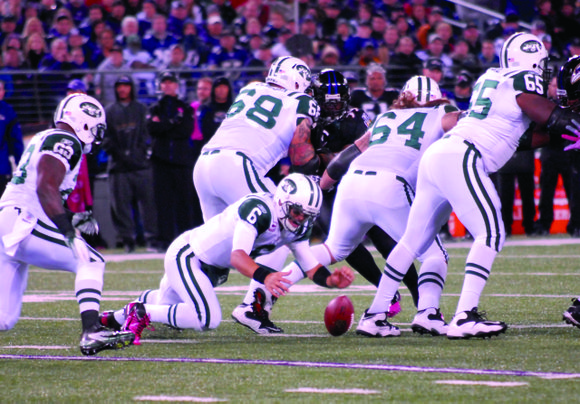 CORTLAND, N.Y.--Few players can say they've seen everything the Jets have had to offer the last decade. Right guard Brandon Moore, set to enter his 10th year on the active roster, is one of those players. Moore, who earned his first trip to the Pro Bowl last season, expressed his thoughts on the Hall of Fame induction speech delivered by former Jets great Curtis Martin and took a little time to reflect on his career.
"You realize what a blessing it is that you've been able to stick around this long," Moore said after a grueling practice at Jets camp.
An undrafted free agent out of the University of Illinois in 2002, Moore was signed as a defensive tackle. After a year on the Jets' practice squad, a stint with the Scottish Claymores (NFL Europe) and a switch to offensive line, Moore made his debut with the Jets in 2003 and hasn't looked back.
Said Moore: "I remember sitting in a room and guys are teasing me, [saying,] 'Brandon, you're going to be here when they open the new stadium. You're going to carry the flag out.' I'm looking at them and I'm trying to just make the team. [I was] undrafted and just switched positions."
Moore has seen it all in his nine full seasons. He's been through three coaching regimes--Herman Edwards, Eric Mangini and Rex Ryan--and several quarterbacks, including Chad Pennington, Jay Fiedler, Quincy Carter, Brett Favre, Mark Sanchez and now Tim Tebow.
"I saw a lot of great players come through here," said Moore. "So it definitely gives you perspective to count your blessings and understand to make the most of your opportunities."
As for this year's version of the Jets, the squad is not a finished product, according to Moore. "It's early to tell what everyone looks like, but you want to see improvement and consistency from day to day. I don't think we've been as consistent as we would like," Moore added. "Once we get everybody healthy and the young guys stop thinking and get all the plays down with the shortened schedule, we'll be okay."