Jenifer Lewis: Superb and down-to-earth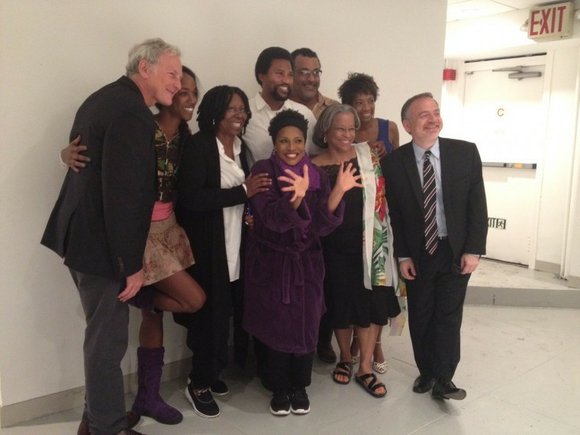 I experienced something this past Saturday that I'm sorry people missed. It was a show that touched my heart. It didn't just entertain me, it revealed to me the huge heart and the heartbreak that a star has experienced in her lifetime. It showed me that everyone, no matter what their success in life, can find themselves with demons to fight and also find the bravery to fight those demons and grow from the experience.
That is part of what I experienced as I watched "Black Don't Crack," Jenifer Lewis' one-woman show at 54 Below, a nightclub located at 254 W. 54th St.
Lewis was hilarious with her words, facial expressions and body movements. But more than that, she made the audience feel like we were all her best friends and she wanted to share her problems with us, including being diagnosed with bipolar disorder and going to therapy, as well as her funny moments on the set of TV series like "Strong Medicine," a series she was on for six years that had Whoopi Goldberg as its executive producer. By the way, Goldberg was in the house on Saturday.
It was obvious that much of the live show was planned, but there were also many funny moments that just happened off the cuff, again contributing to the reality that Lewis is a very down-to-earth lady who willingly wears her heart on her sleeve. What you see in her movie and TV roles isn't just the characters she plays--she normally gives caring, common-sense answers to questions or dispenses sound advice, and the woman is really like that in real life.
Lewis speaks her mind and lets the profanities fly, but she isn't offensive, she is simply real. Her humorous moments, which occurred throughout the show, happened because she has a gift for connecting with the audiences.
One can identify with the sadness she has faced. She shared how she didn't spend much time with her father growing up and how her grandma raised her and taught her to be strong.
Lewis is a performer to be cherished because she is just so candid on stage, and it is obvious that she loves performing in front of a live audience. She enjoys it because, as any extraordinary entertainer, she feeds off what the audience's reactions are at the time. She will easily go off script, and she is naturally funny. When she goes into the feeling of the moment, she fires back at people like you wouldn't believe but are happy to witness.
Lewis has such an enormous heart, is such an incredible talent and has so much energy. As she took us down the journey of her life, the songs she performed were perfect in sharing her heart. She started off with a funny song that made her seem anything but humble--which by the way, she is. The song was "Look at Me." Then she performed the show's title song, "Black Don't Crack," which also served as a tribute to the Black divas who came before her.