Remembering the Legacy of Civil Rights Leader Fannie Lou Hamer; Walter Mosley on Marginalization in Literature
Llc | 8/20/2012, 1:04 p.m.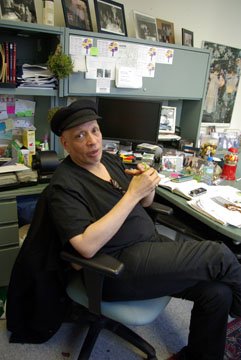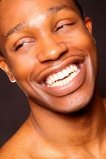 I'm envious of civil rights leader, Fannie Lou Hamer. After all, if the only thing she ever did was utter the words, "I am sick and tired of being sick and tired," she would still have a place in history. After 26 years of gravity on earth and four years of professional writing I have yet to come up with any such singular brilliant line that so well defines the sentiments of a generation.
The quote still resonates today as evidenced by the rousing reaction it inspired from the audience gathered at the Dwyer Cultural Center for the one-woman show, "The Fannie Lou Hamer Story." Voza Rivers/New Heritage Theatre Group in association with The Arts & Entertainment Alliance and Jackie Jeffries presented the play as part of the inaugural, Harlem Theatre Arts Festival. Playwright and actress, Mzuri gave a masterful performance and expressed that her motivation is reaching the youth with Hamer's message of voting and human rights advocacy work. "Many of the young people are disconnected but if you teach the young they will become the greatest advocates," she says.
Education and youth are also significant to Navarrow Wright, CTO of Interactive One. Wright was a featured speaker at Grind Spaces for Minorities in Tech, which was founded by, Clive Henry. Wright noted that there is a need to encourage communities of color to harness the power of technology in business, arts and culture in order to close the digital divide. "The digital divide is about education and literacy," he notes. "We don't see technology as a means to economic development and that's the shift we have to make. We need visual representations of that."
When it comes to images February's Harlem Arts Alliance Visual Artist of the Month, Leon Nicholas Kalas covers the entire spectrum from paintings to collages to sculptures made out of old soda cans. Still with so much impressive work, Leon finds his greatest success overseas due to what he considers the financially exploitative downtown New York gallery scene. "The New York galleries are crazy charging like $5,000 for a month's show. I learned overseas they appreciate you as an artist and it's not about making money out of your art," he notes.
For most creative talent there is no escape from the challenges of their industry. In literature one of the avenues of exposure for people of color has been through imprints. At his Hue-Man Bookstore reading for his latest novel "All I Did Was Shoot My Man," Walter Mosley expressed his ambivalence toward imprints. "You get marginalized and it's impossible to get out of that place," he says. Still Mosley realizes that sometimes the compromise is necessary to launch one's career. "But if the only place you can get printed is an imprint then do that," he advises.
As I listened to Mosley read from his novel I realized that we both have yet to write one line as definitive as Hamer's. So yeah, I'm still envious but with great respect and admiration mixed in there too.
Souleo Enterprises, LLC is the umbrella company that creates and produces entertaining, empowering and informative media and philanthropic projects by founder, Souleo.
This article is courtesy of our partner The Harlem Arts Alliance
****
The Harlem Arts Alliance is a not for profit arts service organization celebrating 10 years of service to a prestigious list of members such as the Apollo Theater, the Greater Harlem Chamber of Commerce, Columbia University, Harlem Stage (Aaron Davis Hall) and over 850 more cultural/arts institutions and individuals. The weekly column, Harlem Arts Alliance Presents: On the "A" w/Souleo, covers the intersection of the arts, culture and entertainment in Harlem and the greater NYC area.
For more information on HAA please visit: www.harlemaa.org
For more information on Souleo please visit: www.souleouniverse.com