Lifesavers Party With a Purpose
8/23/2012, 2:40 p.m.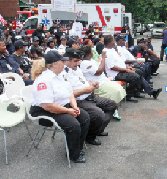 Capt. James "Rocky" Robinson's Bedford-Stuyvesant Volunteer Ambulance Corps (BSVAC) held their Life-Savers Party With a Purpose at their 24th annual celebration block party last month.
The fun took place at BSVAC headquarters (Greene Avenue and Marcus Garvey Boulevard) and celebrated 24 years of saving lives and training the next generation of lifesavers. Their great block party was complete with home-cooked food, live music, games, free health screenings, an EMS motorcade and much more.