Love created a family for African-American parents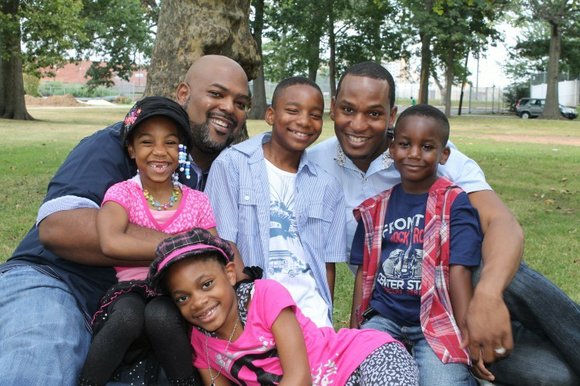 Most of us are not able to choose the family we have. Luckily for Tony Brown and Tavon LaShaw, they were able to create a loving family of six. Love and common interests bonded Brown and LaShaw together for life, and they decided to expand that relationship by adopting four African-American children.
Before adopting, Brown and LaShaw were involved in the foster care system for a couple of years. Living and caring for the children in the system eventually led them to adopt their first child. After adopting one child, they just continued.
"There are a lot of children--especially Black kids--who need homes, so it just kind of happened. When you spend time with the children, your hearts bond with theirs. It is hard to say no to the children you love. We wouldn't have it any other way," LaShaw said.
Brown and LaShaw met through a mutual friend in January 2007 and have been inseparable ever since. They adopted their first child, Niyah, in 2007. Just two years later, LaShaw and Brown adopted their second child, Anthony Brown III, in 2009. That same year, Kayla was adopted and joined the family. Finally, in 2010, Brown and LaShaw completed their family with the adoption of Rasheem.
Brown and LaShaw say theirs is just like any other family, and the children believe so too.
But with age comes awareness, and eventually the children are going to realize that their family is different than many others. So Brown and LaShaw are already planning some of the more difficult conversations.
"Tony and I are very affectionate. We hold hands, everything. In the kids' minds, what they see is normal. Now they are at the age where they can compare other parents to their own. We have not yet sat down and told them that we are gay--to this day we are still discussing this matter," LaShaw said.
"Well, we know very little about their birth parents either, but if they ever wish to look for their birth parents, we will support them," he said. "But we always make sure to tell them, 'These are your siblings and we are your parents who love you unconditionally.'"
Both Brown and LaShaw lean heavily on their own parents and say they are blessed to have such supportive families. Brown's mother lives with the couple and helps take care of the children.
"I take my hat off for both my mother and Tavon's. If it weren't for them, we wouldn't have been able to go through this process at all," Brown said.
Brown and LaShaw had a very smooth adoption process. They live in New Jersey, the first state to legalize gay adoption.
The couple are now trying to reinforce the idea that all families and people should be accepted. Brown started the Big Brothers Foundation in 2010, a nonprofit organization for gay, Black, heavyset men. The mission of the group is to be happy with who you are and to not conform to what society says is right. The organization recently hosted an event for this year's New York Black Pride.
Brown and LaShaw say their motto is: "I'm Black, gay and proud."