Mo' better; Maurice Cummings--street life to politicking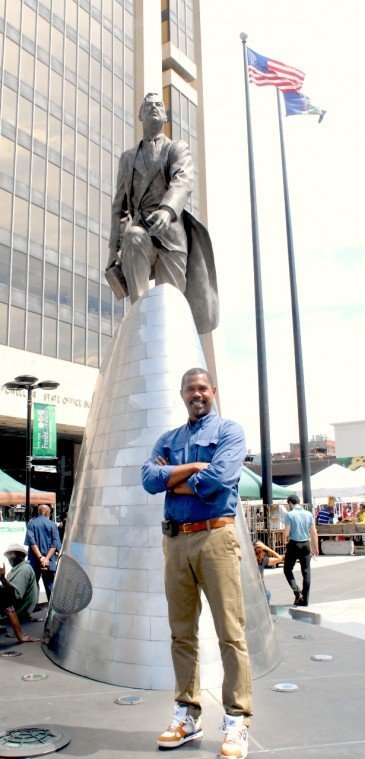 Getting passionate, he says, "I try to urge them from a young age to make a decision about what it is they want to do in life, make sure that it is something that they love and pursue that."
He taps that reliable axiom about how if your work is something you love, you'll never work a day in your life.
"I love the work I do. I don't feel like I am coming to work every day. I feel like I am coming to contribute to a team, to an effort for the community, something of significance that will benefit the people that are coming behind me--especially our young Black males and females who nowadays don't seem to have any direction and move with a lack of basic principles of how to conduct themselves. When I speak to them, it's coming from the heart, it's not something that I read."
Now comes the revelation.
"I used to hustle. I am a former street person. I was incarcerated when I was 26, 27 years old on a drug conviction." Coming out of that experience solid helps him know what motivates some of the kids to do what they do and what is needed to motivate them to come out of it. "I contribute my time to try and steer the youth in the right direction."
His family is his everything. He has a 16-year-old son, Nasir, and a 4-year-old daughter, McKenzie.
"Nasir comes and volunteers with me," he says proudly. "I want my legacy to be that I was a good father. I am in their lives, and they are my everything. I try and tell my son as a father all the things that a young man should know. We have candid conversations about everything--guns, sex and violence. I am very open and honest with my children."
As for his own upbringing, he credits his grandmother Winifred for raising him to be the strong man who walks the world now. His own mother was lost to drugs, he says, and his father was a "functional drug addict, who went to work every day with a shirt and tie, but he hustled too--and he was murdered when I was 8 years old."
His grandparents hail from Panama and North Carolina on his mother's side and Ireland, Massachusetts and South Carolina on his father's.
But, Grandma Winifred Cummings, he says, "is my guardian angel--she passed on September 11, 2007. My mom died six months later. I was very fortunate to have my grandparents in my life for most of my life, and they were without question the most influential part of my life."
While stressing that a political career is not what he himself is looking for, he says he admires the fact that the assemblyman "wears many hats. He is chairman of the state, chairman of New York County, the assembly and he wears the labor committee hat."
In that vein of trying to do the work for the people--but on a social, not political tip--Cummings states that 75 percent of his time is devoted to his work both official and in the community: "I contribute most of my time with regards to this office to try and steer the youth in the right direction. I love my job."